Special needs changes a 'landmark moment' in education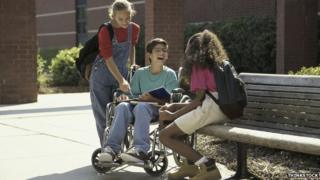 Changes have been made this week which give children and young people with special educational needs (SEN) and their families a greater say in the support they receive. So how do the people affected feel about the new system?
The new measures are being described as some of the biggest changes in special education for 30 years. For a start there's been a name change - we now use the acronym SEND (Special Educational Needs and Disabilities).
The new system will also give parents the option to apply for a personal budget. For the first time they can have more financial control over their child's education.
The government has said the new system is a "landmark moment" for children with SEN, which will stretch from birth to age 25. For children and young people on a statement - they receive statutory support in school - they will be moved onto Education Health and Care plans. This means the local council, NHS and school will work together to create a plan for the child.
For many of those I have spoken to - teachers, parents and young people - while the changes bring much hope there are concerns at the speed with which they have been rolled out.
There are currently 1.7 million students with various learning difficulties - about a fifth of England's schoolchildren - so creating one system that works for all is no mean feat.
The previous system is testament to that. In 2010 Ofsted carried out a wide-ranging review of SEN and found real frustration from parents who felt they had to "fight for the rights" of their children. The inspection body carried out detailed studies of 345 young people and found that although in some areas it was working well, there was not enough consistency and equality in the support being given.
Assessments were often time-consuming and repeated a number of times leaving young people without the help they needed to reach their full potential at school.
After visiting a centre in Greater Manchester which gives extra tuition to children with special educational needs including dyslexia, autism and Asperger's Syndrome, it is clear some parents are tired. Tired of fighting for their child's education but terrified by what they are calling "the unknown". It seems these parents didn't have much respect for the old system but feel in the dark about the new one.
This fear is reflected by Robert Bailey, a 14-year-old I spent time with over his summer holidays. He has high-functioning autism, and likes routine. What he doesn't like is "the unknown" as he says the support is important for his education.
"If I didn't have extra support I don't think I would have coped, I think I literally would have snapped like a small tree branch."
---
Changes to SEN
Statements of special needs and learning difficulties will be replaced by education, health and care plans (EHC)
SEN support will replace School Action, School Action Plus and their equivalents
The system will support those from birth to 25 - instead of only those aged between five and 19 years.
His mother, Justine, is one of those parents who has battled hard for her son's education and she feels that finally they have got to a place where Robert can learn and flourish. Looking through the new Code of Practice she is positive but is concerned about the speed in which they have been introduced.
"I just hope that local authorities are geared up to put those resources into place to be able to respond to that need because one thing we can't do is wait. Our children can't wait, they need support all the time," she says.
Teaching unions are worried the changes are coming in too quickly, but the government says they have done everything they can to involve the teaching profession and have also held several courses for teachers, headteachers and special needs co-ordinators. A fifth of local authorities have been implementing the changes over the past 18 months. I went to Hawkley Hall High School, a mainstream school in Wigan which also has specialist services for children with autism. The feeling I got - both from the children and their teachers - is that they played as much of a part in the overall tapestry of the school as the other pupils.
SEN (and disability) is very important to this school - and the changes have been introduced gradually and thoughtfully over the past year or so. Roy Halford, the headteacher, is positive about many of the changes and says it will give more tailored support for pupils.
Overall it is clear that everyone I met who is involved in special education is passionate about a child's ability to learn and reach their potential and the overall consensus appears to be that these changes are a good thing, they just wish they had had a little more time to implement them.
Follow @BBCOuch on Twitter and on Facebook, and listen to our monthly talk show