Should there be a TV channel just for sign language users?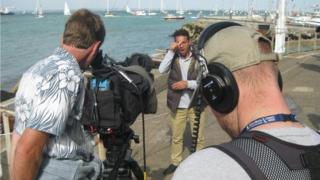 This week a consultation by media industry regulator Ofcom comes to an end. It could lead to more funding for television programmes made in British Sign Language (BSL), if there is enough support. But should there be a dedicated sign language channel?
Other British minorities have television channels funded via government and the BBC licence fee. Gaelic speakers have BBC Alba where you can watch Gaelic versions of TV shows like Peppa Pig and the much anticipated drama Bannan, due to be broadcast later this month. In Wales, S4C delivers Welsh language television like its famous soap Pobol y Cwm and their nightly news, Newyddion.
Many are programmes created from scratch, made and presented by people who speak that language and who were brought up in the corresponding culture. Bar one or two exceptions, when sign appears on TV it's as a translation of a spoken English programme from an inset signer. But should there be a channel where the signing happens centre-screen, coming from the presenters and a deaf perspective?
On a dedicated BSL channel, the newsreader would sign, and half-time sports analysis would come from a sofa full of people using their hands rather than their mouths. Drama, children's programmes, and others would also be signed by the presenters or actors.
But Gaelic and Welsh are languages woven into the very fabric of the UK itself. They're part of its culture and its history. Is BSL on the same footing as these ancient languages?
BSL can be found in the UK's history though has only been around in force since the mid-1800s. But do we judge importance by the amount of time that's passed or in other ways?
See Hear, BBC Two's long-running sign language magazine programme gets around 200,000 weekly viewers. By way of comparison, BBC Alba and S4C together claim around 600,000 weekly viewers.
Though there are some estimates of up to 200,000, Ofcom's own research commissioned in 2006 estimates that 66,000 people understand sign language - that's more than the 58,000 who speak Scottish Gaelic. There are around 750,000 Welsh speakers in the UK.
Some say BSL is an endangered language and is being whittled away on several fronts. Cochlear implants, controversial in the deaf community, though life enhancing for some, are seen as shifting people away from being natural sign language users. The trend for closing down deaf schools is leading to deaf children being mainstreamed and learning by lip-reading English speakers, not by sign.
Though many would see medical solutions and equality in education as positives and logical progression, a large number of those in the deaf community prefer to think of themselves as a minority language community rather than disabled, and the idea that their culture might be "cured" is offensive. It's inescapably political.
BBC Alba and S4C help keep their respective language and culture alive. So if BSL really is an endangered language then perhaps television, presented by sign language users, is needed more than ever.
The closest the UK has to a sign language channel comes from the British Sign Language Broadcasting Trust (BSLBT), who air their programmes online, as well as on Film4 during the day, and on the Community Channel. They make about 20 programmes per year and have employed many hundreds of deaf people behind and in front of the cameras.
BSLBT receives money from smaller channels, those with between 0.5 and 1% audience share, like Sky One or Dave, who opt to give them money instead of making their own signed content. Each channel pays 20,000 pounds, giving about a million pounds to the trust. The amount has not risen since BSLBT began in 2009 and this current consultation process by Ofcom seeks to find out if they should be receiving more money.
S4C gets £100m a year from the BBC and the Department of Culture, Media and Sport. BBC Alba receives around £15m each year from various sources, with a minimum of five hours of new content each week.
BSLBT's million pound budget makes programmes which typically draw 20,000 viewers on TV with more on the website.
Deaf film-maker Brian Duffy has made and appeared in BSLBT programmes and is a passionate advocate of sign-presented TV. He says: "Language should be delivered in its natural form from a native speaker of this country, having it translated is not the same thing. In-vision signing is quite literally the language being pushed aside to the corner. That's an indication of the attitude we get from providers."
But Duffy also points out that, being a language of gestures, BSL cannot be written down like English, Gaelic and Welsh. He says: "Sign language recorded on camera is exactly the same as writing on paper - it is the only way of archiving our language and culture."
In making decisions about the future of television for deaf people, Ofcom faces a confusing picture. Not all deaf people use sign language, and the TV regulator says many more deaf people in the UK rely on subtitling rather than signing.
When, in the final of 2011's the Young Apprentice, the BBC ran live subtitles with a delay of five seconds, there was uproar. But when the BBC News channel decided to drop its scheduled 1pm BSL bulletin for breaking news coverage such as Nelson Mandela's funeral, they didn't get many complaints. Ofcom could be forgiven for thinking this means subtitles are far more important than sign language.
Whatever your views on the importance of BSL on television, they're worth sharing. Ofcom's review of signing arrangements closes at 5pm on Monday 22nd of September. In particular it will look at whether funding for BSLBT should start to rise with inflation. For more information follow this link.
Follow @BBCOuch on Twitter and on Facebook, and listen to our monthly talk show