Disabled students: Molly goes to university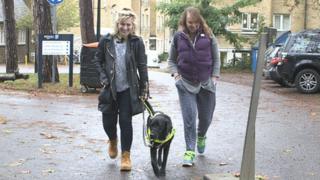 BBC Ouch has been following disabled students during their first month at university to see how their studies are going and how they get on away from home.
Molly Watt has Usher syndrome, a genetic condition that has caused her to be deaf and visually impaired.
She has been at the University of Roehampton since September studying primary education.
Before starting, Molly had a number of concerns: Will new friends understand her disability? Will she be able to hear in lectures? And what would she do with her guide dog Unis when she goes out for a drink because you're not permitted to use a dog while intoxicated.
One month later, it's mid October and Molly has settled in, but she says the first few weeks were difficult.
"I sat in a lecture and couldn't hear the lecturer because the microphone hadn't come, so I sat there and felt useless," she says. "My equipment turned up late as well so it was just one thing after another."
But Molly says her new flatmates have made the overall experience enjoyable. Before university she was nervous about how other students might take the news of her disability but says they have turned out to be supportive.
"They showed genuine interest and then after that first evening of it we didn't talk about it again," she says.
When she was planning her move away from home, Molly was concerned about how her guide dog Unis would adjust to the new way of living. But both she and the dog have adapted well.
"She has coped really well," Molly says. "When we're in the flat everyone leaves their doors open and she wanders in and out of the rooms looking for attention and food."
Despite the difficult start Molly says she is happy now and has fitted in to life at university.
---
Find out more about BBC Ouch's disabled students series
Coming later this week, another student, Fran Smith, tells her experiences of starting university this year. She has Ehlers-Danlos syndrome and a recent operation on her spine meant that the chances of her starting on time were slim. Find out whether she makes it for her first day on the BBC Ouch blog.
Are you a current or former disabled student? We'd like to hear about your experiences of life at university with a disability. Email us at Ouch@bbc.co.uk, tweet @BBCOuch using the hashtag #disabledstudents, or get in touch via Facebook