Ouch talk show 113: Did you say 'inspiration porn'?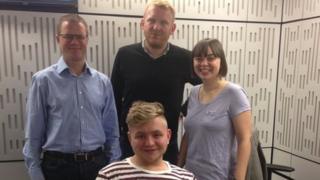 On this month's show - comedian Stella Young doesn't want to be considered an inspiration just for being disabled, and Bad Education star Jack Binstead on setting up his own YouTube channel.
Also, a 43-year-old husband and father with cystic fibrosis on how he stays positive with a shorter life expectancy. And our citizen correspondent on being cautious about reports of scientific breakthroughs.
With Rob Crossan and Kate Monaghan.
How to listen
Show notes
More about this month's guests and discussions:
For other audio clips from Ouch, go to our audioBoom channel.
Producer: Damon Rose,
Follow @BBCOuch on Twitter and on Facebook, and listen to our monthly talk show