We're adults, not children, says learning disabled girl band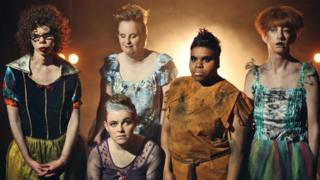 An image-conscious Australian girl group with learning difficulties wants the world to know that they are adults, not children.
"This isn't Disneyland, I'm not a novelty, this is as real as it gets," sing The Sisters of Invention in unison on their energetic debut song.
The young women - Annika, Michelle, Jackie, Aimee and Caroline - are a pop group with a difference. All have learning difficulties and some have additional impairments.
The five are based in Adelaide, Australia, and met in 2010 when they sang together in a choir run by Tutti, an organisation which supports disabled artists. Tutti saw they had talent and invited them to form a group. Now they perform together two or three times per month, mostly at conferences, and this is how they make a living.
Michelle is 25 and has cerebral palsy and a mild learning disability. She says they chose the name The Sisters of Invention "because we are like sisters and we support each other on and off stage. For the invention part, we are trying to change people's view of people with disabilities. We are reinventing the rules".
"I left school years ago, I thought you should know," is another line from that current song, penned as an angry response to a support worker who told them they should only perform for school children.
The accompanying video reinforces their message. It starts with the five dressed as Disney princesses holding toys. By the end, Tinkerbell's wings are broken, Rapunzel's hair has been chopped off and all the toys have been trashed and thrown aside. "It's about not treating us like disabled kids," says Aimee, 28, who has Williams syndrome, a genetic condition which comes with an often documented affinity with music. "We are people," she says, "not just disabled people."
"We knew that we were capable of a lot more than the support worker thought," adds Annika, who is 28, blind and pitch perfect.
All 10 songs on the album are based on the members' own experiences and were written as a group in their twice weekly meetings at Tutti. "We would arrive in the morning and I'd say, 'What do you want to talk about today?'" says their manager and producer Michael Ross. He then noted down everything they said until lyrics took shape. "Much poetry would come from them," says Ross, who made sure they all understood exactly how their words would later be used.
One track, Chaos And Serenity, looks back at Annika's time at school where she received mixed messages about her abilities. Her parents knew she could succeed, she says, but the school didn't agree. "The principal kept telling my parents I couldn't learn but I proved her wrong," says Annika.
Another track, Tsunami Of Kites, came from feelings expressed by 25-year-old group member Jackie, who was close to a young cousin who took her own life.
Building a piece of work through conversation is the norm in learning disability arts circles. It's considered a good way of drawing out what participants really want to say. Producer Ross says that putting "their truth" out there is important. "I'm not interested in [their disabilities] at all," he says. "What I'm interested in is that we get to see the world through a lens that people in pop culture almost never get to see. It is creative gold."
When the Sisters perform their songs and routines, the physical side of their disabilities are more apparent. Those who struggle to dance or move on stage sit on stools, Ross says, "because they're not up there to showcase their barriers or difficulties - they're up there to showcase their strengths".
Although creative decisions are made together, what they wear is strictly an individual thing.
"I like wearing trackies," says Jackie, who describes herself as the hip-hop one. "I like glitter and sexy stuff," says Aimee, who dresses more like a cabaret artiste. Michelle calls herself "smart and trendy" and has shoelaces matching her bright pink top.
Annika, who can't see, says she gets help from her mum when choosing clothes. Caroline, 29, a trained dancer, picks up clothes on her trips around the world with her parents.
The girls have been honing their sound and image for three or four years and it's this year that it's really starting to fall into place with a download now available and lots of events in their diary.
Most gigs The Sisters of Invention do are for corporate events where the audience "want someone to inspire them", says manager Michael Ross. But he's keen to stress that the group consider themselves as artists above all.
"We don't jump up and down at being the point of inspiration," he says. "If you want to be inspired by fantastic, artistic achievement then fine, but don't be inspired because someone can't walk as well as you and can remember their own name."
This Isn't Disneyland, the band's debut single, is available for download now. The accompanying video can be seen online and their self-titled album, The Sisters of Invention, is due for release early next year.
Follow @BBCOuch on Twitter and on Facebook, and listen to our monthly talk show