Disability day: What are you doing?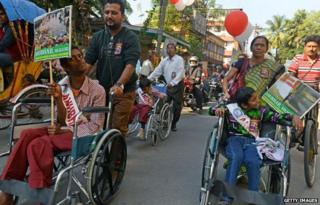 People over the world are marking the International Day of Persons with Disabilities (IDPD) and have been getting in touch to tell us what they are doing.
All around the world, people are encouraged to get together to celebrate disability identity. It has been observed annually by the United Nations since 1992. It promotes disability rights and the benefits of integrating disabled people into all aspects of life.
Events in the UK tend to consist of performances by disabled artists and live discussion forums. This year, Liverpool's DaDaFest are running their inaugural international congress on how disability arts has affected social change. The Central Library Manchester will give disabled people hands-on access to the books and artefacts on display in a First World War exhibition. And in Cardiff, Disability Wales are running an event to help shape their new manifesto.
So far, most disabled people who've contacted us weren't aware it was happening.
James West, who has MS, obviously doesn't think it's a very special day, lined up for him is: "dragging myself out of bed and going to work, as I do every day". Along similar lines: "I will be spending another day on public transport being kicked about & having to ask for a seat from oblivious folk", tweets Penny Rabiger.
@dorsetcharlie isn't impressed by the name of the day. She tweeted: 'International Day of Persons with Disabilities' Really, that's the best name they could come up with?! #PCMadness
But @catobellingsen got in touch to tell us he is attending a conference in Oslo on growing up with a disability in Norway, where the minister for social inclusion Solveig Horne is speaking.
And @iainmassingham tweeted to say he is spending the day "showing thanks that I am part of the amazing disability football club @AFCMasters #football4all".
@Matt_Davies1705 is spending the day talking to students with disabilities who are seeking paid internships, and @rebeccalawthon and @k_runswick_cole were both celebrating it with events in Manchester.
As the day rolls on, we'll be tracking what people are doing.
This year's theme as set by the UN is - Sustainable Development: The Promise of Technology.
Though the UN calls it IDPD, it seems to also go by other names and acronyms depending on language preference. The Department for Work and Pensions in the UK are referring to it as IDDP and many have inserted a W for 'with' as in IDPWD.
Sometimes, though, the IDPD bush telegraph goes quiet and it feels like the day goes by without much fuss or fanfare. So please tell us what you're doing on December 3 this year. Or better still, send pictures and reports from your event. We'll update this post with your contributions as the day progresses.
Email ouch@bbc.co.uk to let us know how you are marking the day, or tweet us @BBCOuch on Twitter or post on our Facebook page