How can cookery classes help people with learning disabilities?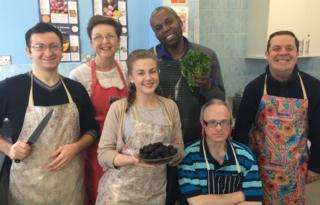 A leading charity says more support is needed to help adults with learning disabilities make healthier choices in their diet. So how would this support look?
"I love cooking," says Mark Wakeman, who has learning disabilities. He attends a regular cookery class at Stepping Stones, a charity that provides services for people with learning disabilities in South London. "I like cooking fruit," he says, "I like desserts but I'm trying to cut down. I'm cooking a curry."
The teacher of the class, Claire Reardon, aims to reinforce basic messages about nutrition. "The whole idea is to encourage healthy eating, she says. "We try to use seasonal ingredients that are fresh and healthy."
The British Institute of Learning Disabilities (BILD) told 5 Live Breakfast that people with learning disabilities find it difficult to understand the consequences of their lifestyles, so are much more likely to have diabetes, obesity, poorer health and to die younger than the general population.
"There needs to be support and encouragement so adults with learning disabilities understand healthy eating and healthy lifestyle options," says the organisation.
The problem is said to be widespread and BILD believe the problem lays with the people who are choosing the food - often not the person with learning difficulties.
They found the three groups at greatest risk are: those living in homes or hospitals where they are cooked for, those living at home where a parent chooses their food, and those living in the community who are often driven to choose unhealthy options because they are cheaper.
Stepping Stones say only one in ten adults with learning disabilities has access to a healthy diet. They want to ensure that the students on their classes are able to make active choices and aren't just "passive receivers" of food. BILD has identified this as the best solution.
Reardon takes classes of between six and 20 adults with learning disabilities. One of her students, Bulent Abosoglu, lives on his own. "I need to learn cooking skills," he says. "I don't know how to cook. I need to learn more."
BILD says short-term savings giving poor support to people with learning difficulties will result in far more expensive consequences in the longer term for the NHS. They want more support in place to ensure that advice about healthy eating is also available to social care providers.
The organisation says classes such as those provided by Stepping Stones, cannot be a "one off" with a day here or an event there. They say encouraging people with learning difficulties to take more responsibility for their eating choices will take time and requires good support.
Family members and carers can help in this goal says The Caroline Walker Trust, which provides nutritional support to vulnerable adults. They suggest writing a shopping list of food and drink - with pictures if necessary, drawing up a cooking schedule containing healthy meals and swapping unhealthy snacks for fruit.
Follow @BBCOuch on Twitter and on Facebook, and listen to our monthly talk show