Ouch talk show 116: Oscars, acting and singing on the tube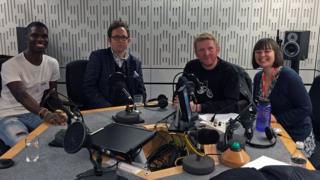 This month: Is it really like "blacking up" if a non-disabled actor plays a disabled role? Plus the monthly quiz, music and the man with mental health difficulties filmed singing on the tube who became a viral hit.
With Rob Crossan and Kate Monaghan.
How to listen
More about this month's guests and discussions:
For other audio clips from Ouch, go to our audioBoom channel.
Read a transcript.
[155k]
Producer: Damon Rose.
Follow @BBCOuch on Twitter and on Facebook and email ouch@bbc.co.uk