Why a 'poetic' sign language interpreter went viral in Australia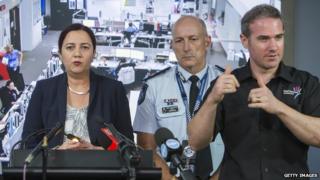 An Australian sign language interpreter who translated the Queensland Premier's live Cyclone Marcia press conference has made waves on social media. But what did his energetic performance add to the important storm information being broadcast?
A number of sign language interpreters have hit the headlines in the past few years for their show-stealing performances at public events. In 2013, viewers of the Nelson Mandela memorial called out an interpreter for not using correct South African sign language.
In 2012, Lydia Callis, who interpreted at live press conference updates for New York's Mayor Bloomberg during Superstorm Sandy, shot to fame for her energetic translations. It's thought that people take particular note of the interpreter because it's a novelty that they don't see on their screens too often.
The latest one to go viral comes from Australia.
Mark Cave has been widely praised by deaf and hearing tweeters alike for his interpretation of Queensland Premier Annastacia Palaszczuk's live updates on the status of Tropical Cyclone Marcia. He is "doing so much for AUSLAN and understanding", one Tweeter said of the 30-year-old. AUSLAN is Australian sign language, the UK equivalent is BSL. Another tweeter pointed out that sign language is "a must for all emergency events". Some users aren't fluent in English so can't benefit from subtitles.
"Interpreters are seen on TV screens during emergencies like Cyclone Marcia or Superstorm Sandy because that's the best way for authorities to ensure that deaf people who use sign language get the message that everyone else is getting," says Charlie Swinbourne, editor of deaf community blog The Limping Chicken.
Sign language, he says, incorporates not only hand movements, but body language and facial expressions too. Just as hearing people might modify the tone of their voice, Swinbourne says that interpreters have to be more animated than usual when translating information in emergency situations, to convey their seriousness. "To a non-signing audience, those relatively dramatic signs, for words like 'storm', really stand out," he says.
People with no connection to the deaf community have described Cave's animated performance as "hilarious", "entertaining", "poetic" and "mesmerising", like an "interpretive dancer". @Lou_OMara loves the interpreter's facial expressions, saying that he should be on children's television show Play School.
Sign language interpreter Rob Troy says that sometimes translations might come across as slightly over the top because "we are not always aware of how we look when the complexities of the situation take over. It is this dissonance between what we portray and what we believe we are portraying that makes sign language interpreting so interesting, and at times comedic, for the audience."
Some tweeters made it clear that their attention had been drawn to Cave, rather than the Queensland Premier. @VisionInvesting wrote that #signguy was "making an update on cyclone and being translated by some lady". "We muted and made up our own commentary", @JanHan29 said.
Troy says that while "it is always important to respect the speaker when interpreting a one-way event", it is not something that is always at the forefront of his mind. "In that very moment, I am concentrating on delivering the message", he says.
Twitter came alive with jokes about the Australian interpreter's impact, with viewers using the hashtag #signguy over 1,000 times in 24 hours. @aus_pm, a fake account for the country's prime minister Tony Abbott, tweeted: "Maybe #signguy wants to be Chief Whip? I'll ask."
Follow @BBCOuch on Twitter and on Facebook, and listen to our monthly talk show