Ouch talk show 117: Stump art, disabled models, black canes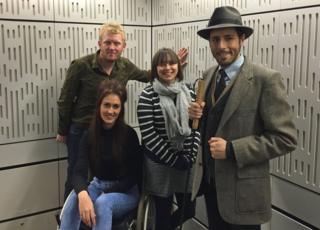 On this month's show: The blind man who swapped his white cane for a marching band and the amputee who dresses her stump up as celebrities and gets social media followers to guess who it is. Plus why were there no disabled models at London Fashion Week?
With Rob Crossan and Kate Monaghan.
Watch a video clip of the talk show
How to listen
Read transcript
[273kb]
More about this month's guests and discussions:
For other audio clips from Ouch, go to our audioBoom channel.
Producer: Damon Rose.
Follow @BBCOuch on Twitter and on Facebook and email ouch@bbc.co.uk