'I ditched my cane for a marching band'
By Emma Tracey
BBC News, Ouch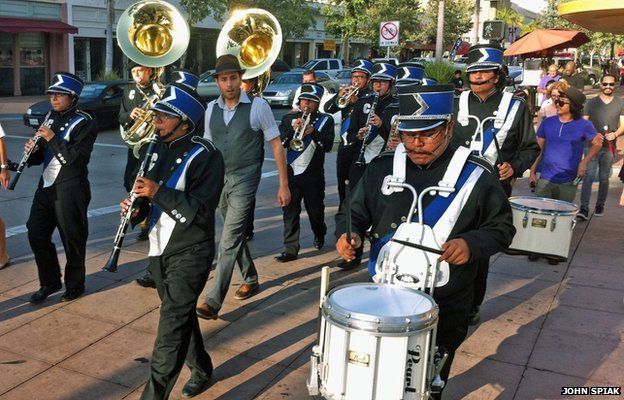 Blind artist Carmen Papalia didn't like using a white cane to get around, so he swapped it - for a marching band.
"I'm going to tie a string to an object outside of the museum and anchor it to an object inside to indicate a route that's significant to me," says Carmen Papalia, an artist-in-residence at the V&A museum in London.
He calls himself a non-visual learner - though others would say he's blind. When finding his way around, he doesn't like using a white cane - he thinks it is too symbolic of being blind. Instead he enjoys discovering other ways of navigating and learning about his surroundings.
"I'll lay bubble-wrap on the floor and on objects I might walk into," he says. Everyone likes walking on bubble wrap, he adds, because it makes a noise when you step on it.
Papalia calls his approach to orientation "creative way-finding", and he's been practising for a while.
His most innovative way-finding performance came when he took a stroll around the Californian city of Santa Ana, with nothing to guide him but a marching band, and no prior knowledge of the town. The band reflected Papalia's walking speed in its timing and played pre-arranged tunes or sounds to warn of obstacles, steps, trees and traffic.
"I ended up wandering into buildings, restaurants, and all sorts of things, with the band following me," he tells Ouch's talk show.
Despite concern from some of the band's members, Papalia says the music was more efficient than his cane at helping him to explore a new place confidently and safely.
During his time at the V&A he will be attempting a similar cane-less feat, wandering its seven miles of galleries guided only by a radio-effects artist who is used to smashing pineapples or rustling newspapers to create meaningful dramatic audio.
"She's going to anticipate my collisions with precious objects in the museum, and then she's going to make sounds that illustrate impact," says Papalia.
He hopes he won't smash into any of the museum's valuable possessions but jokes that it might be his best chance at making an impact on the art world.
Papalia, who is from Vancouver, Canada, says the residency at the London museum is going well but he still can't easily navigate the huge space.
A previous performance art piece saw Papalia cross a busy street whilst wielding a 4.5m-long white cane - three metres longer than usual. He says it was unhelpful as a mobility aid but fellow pedestrians moved quickly out of his path. He says he did it from a "place of antagonism", adding his strongly-held belief that the white cane is "connected to an institution that has particular goals around identification, rehabilitation and independence."
He thinks white canes are confusing and attract people who feel they should offer support but don't necessarily know how to.
It's the symbolic whiteness of the cane which bothers Papalia most of all - he says he would rather ask for help than have people offer it when he doesn't want it. The cane also doesn't match the clothes he chooses to wear, he says.
Papalia's current cane is made of graphite, with all the red and white tape rubbed off so it is black, and has a wooden handle added to it. It looks stylish, he says, and taps the ground just as well as a white one does.
It gets a different - and interesting reaction from strangers as well, Papalia says. Some people think it's a metal detector - other guesses include horsewhip, tentpole, hiking stick and "even a hash pipe."
Footage courtesy of Mickey Fisher.