Viewpoint: Why is IS featuring deaf people in a video?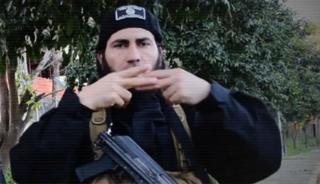 There are many headlines expressing concern about young British people leaving this country to join the so-called Islamic State. But now Islamic State (IS) militants are targeting a new group of potential recruits in the west - deaf people.
In a video, which is reported to have been released last Sunday, two deaf IS fighters who communicate in sign language were shown appealing for other deaf people to join them.
The video features what may be an Arabic form of sign language - it is not British or American Sign Language but may be a form of International Sign. It includes subtitles in both English and Arabic. It looks professionally made, and shows the two men directing traffic while heavily armed with guns. It is from the Nineveh Province, which is under IS control. It also includes footage from the city of Mosul.
The two men appear to have been given roles with responsibility and they sign confidently to camera.
Responses on social media range from those wondering if the organisation has "run out of cannon-fodder" to deaf users wondering whether the inequality that they face in the west means they are seen as being ripe for recruitment.
There's no doubt that some people in the deaf community are worried by the video. On Facebook, several leading figures have posted messages asking friends and contacts not to pass on the video on their timelines in case they inadvertently help IS to reach the very people they want to target.
Part of their concern may stem from the fact that although sign languages vary across the world, being a gesture-based visual language, deaf people from different countries can often easily understand each other and when they meet they see themselves as having a bond that goes beyond nationality. Some could look at the two fighters on the video, watch them using their language and see people they can relate to.
There's also an irony that, in making this video, IS has shown itself to be aware how to reach deaf people. It seems to be trying to attract its target audience by suggesting they are taken seriously and we see the two deaf fighters have important jobs. It's worth bearing in mind that deaf people in the UK are not allowed to serve in the armed forces and face a far higher level of unemployment than the average person.
Few organisations and groups in the UK make signed and subtitled videos to communicate clearly with deaf people, so the fact that IS have made a fully accessible video could make them seem more deaf-friendly than many who are closer to home.
The video's title however: "Message from those who are excused to those who have no excuse" indicates another possible message. It appears to be aimed at shaming people who are not deaf or disabled in any way into joining IS. People who are disabled have no religious obligation to wage jihad, so the message appears to be that two deaf men have signed up, so shame on those who have not and have no official religious excuse.
Charlie Swinbourne is author of the Limping Chicken blog which deals with issues relating to deaf people.
Follow @BBCOuch on Twitter and on Facebook, and listen to our monthly talk show