Brain injury: Stories of changed lives
By Lee Kumutat
BBC News, Ouch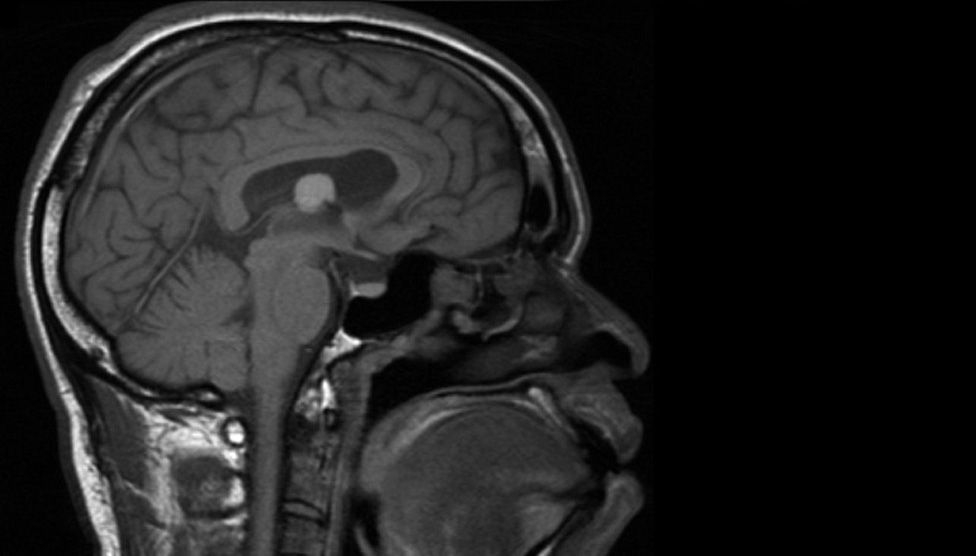 A new blog aims to increase awareness of brain injury and its consequences by telling personal stories.
Charity Headway East London has worked with people who have an acquired brain injury (or ABI) to compile a tell-all blog of frank and open personal accounts of what their lives were like before, and after. The aim is to help ABI survivors rediscover their voices and give them confidence to use them.
Matthew was a software programmer. Six months into his first job he started to get double-vision and numbness in his hands and feet. He went to A&E and was diagnosed with a cyst on his brain which required surgery and removal of part of the cranium. His name has been changed as he wishes to remain anonymous.
"I was born in Birmingham. I think I was four when we left the UK and went back to my family's home country. It's in Africa but for their sake I'm not telling you which.
"I've always been very opinionated, quite bookish, wanting to say what I think even if others might have different opinions, but also quite introverted. I've done lots of study, and lots of church as well - because my parents are Christians.
"I moved back to the UK in 1995 aged 17. My plan was still to get myself an education. I worked three nights a week while studying five days a week. Work and study. It was really that simple. And I ran a lot as well. When I started working, one of the first things I bought myself was a good pair of trainers, and after I finished my degree I got a job as a programmer.
"It all started very gradually... I began to get very severe headaches, and presumed I was working too hard. Then I lost sensation in my limbs and later got very severe double vision. I went to Moorfields Eye Hospital with these symptoms one Saturday and remember nothing more until waking up in a hospital bed.
"After waking, I knew my memory was quite badly impaired because the first time I went for a wash by myself I was there for hours. Take a wash, wash down, and then - oh. I would suddenly come-to, and do the same thing over and over again.
"I noticed the confabulation as well. Do you know what confabulation is? It's a false memory, or a modified memory of events.
"When I confabulate, I cannot retrieve memories very well. In trying to retrieve them my brain struggles, then fills in the gaps with probable memories. And it feels very true. It feels emotionally and logically coherent, but it's often quite a false memory. Confabulation tends to happen if the event I'm trying to recall has a very high emotional component. It doesn't happen often but when it does it is quite spectacular because it's quite obvious that something is wrong.
"Having said it doesn't happen a lot, I don't exactly know because I might not be aware of it.
"My neurological tests show that I'm fine at reasoning and thinking precisely. The problem lies with my memory, speed of thought and retaining information.
"In the nine years since my brain injury I've lost four jobs I wouldn't say I'm proud of that, but it's good in a way because it shows that I've got resilience.
"I've had to relearn a lot of things. I've lost confidence in myself and have forgotten a fair amount of things as well. So now I work at home on algorithms and the fundamentals of programming, rather than trying to build a massive piece of software like I once did. I'm re-learning and trying to understand the basics. It's very pleasurable and it keeps me in touch with what's happening in the industry.
"I would like to get a new career and be back on my feet some time in the future. Hopefully in five years time. Hopefully... hopefully."
Sam Jevon, 47, from Enfield in London, is a Mother of two adult children, Jessica and Spencer. Since her car accident, she has discovered a love of art.
"It was 2006, my daughter was 17 and my son was 15. I was a passenger in a car and I wasn't wearing a seat belt. As it was summer, the window was open. When the accident happened the car rolled over and I came out of the window. Of all those in the car, I received the worst injuries - the driver got a broken shoulder. Apparently the person who went into the back of us had only been driving for a week.
"I was in a coma for a couple of months. I had a bolt coming out of my head because they had taken a bit of my skull out due to the pressure.
"After this I went in to rehab where I learned to improve my walking in the gym and saw a speech therapist. They also helped me remember things and taught me how to cook again. I was there for eight months and am still improving now.
"Jessica was born on Friday the 13th of January, and they let me come home on her 18th birthday. It was better for me to come home and be with my children.
"This is what my hospital discharge Report said about me:
Sam requires close supervision with food preparation - opening packets and chopping - due to her poor coordination and tremor. She needs supervision when walking up to 50m and physical assistance with anything longer than this due to her reduced balance reactions.
She is able to make her needs known and responds well to requests for clarification.
She will be discharged to her parents' home and plans to return to her own home in the long term.
"My personality has changed. I think I am very mellow now. Before, I was very angry and short-tempered. I was awful. A lot of people at the pub say that I was a nightmare. But now, the only thing that could upset me is if anything happened to anyone in my family.
"I think the accident has affected my family worse than it's affected me because I am not the same person I used to be. My sister is nine years younger and I was like a mum to her - that's definitely changed. Every time she had a problem she could phone me up and talk. She can't now. I can't give advice the way I used to.
"My living situation has improved. I live in an adapted bungalow with my own garden. It's quite a nice area and I have good neighbours. From my new place I can see the tower block I used to live in when I was young.
"I think I am living a better life. I think it has done me a favour, but I'm not sure my family would see it that way."