Families of people with learning disabilities say care is a 'national scandal'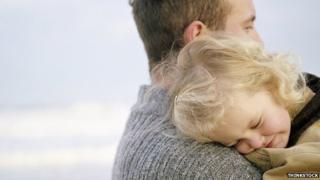 The author of a review into the care of people with learning disabilities in England has reported an "absence of any tangible progress" since he issued it. What do those affected think about this news?
"One day in the bath he presented me with a big chunk of his bottom lip. That moment has never left me, when you are holding a piece of your child in your hand it never leaves you. We realised he needed that extra bit of care, professionally, that we couldn't give him at home."
Phil Wills recounts the day, almost 3 years ago, when he realised he could no longer look after his 11-year-old son Josh Wills, who has autism. Since then Josh, who also displays behaviour that challenges, has been living in an NHS assessment and treatment centre in Birmingham, 260 miles away from the family home in Cornwall.
Josh was becoming violent towards himself and Phil realised his son's life was in danger.
"He bit his lip and his tongue and ended up having several surgeries to have a third of his tongue removed. He was screaming constantly, he wasn't eating properly, his weight was dropping. To see that in front of your eyes was heart-breaking," he says.
There was nowhere suitable to care for Josh in his home county so a place was commissioned in the Midlands. Whilst the family say the care has been excellent, it has meant travelling thousands of miles to visit him.
A Bring Josh Home campaign was launched and only after the intervention of the former Care Minister Norman Lamb did real progress begin to happen.
The family's anxiety has been deepened because the decision to send Josh to the assessment and treatment hospital in the first place was based on the fact that it was meant to be a temporary six-month placement.
He is still there.
But they are hoping that, within the next week or so, Josh may finally be able to go back to Cornwall and live in a specially adapted house near the family home where he will be looked after by care staff who specialise in autism and behaviour that challenges.
It comes after commissioners from the local council and the NHS joined forces.
Phil Wills says it's taken its toll on everyone.
"What price is there on a child's right to a family life, what price is there on a family's right? Through no fault of their own their child can't live at home. I do wonder, when you are looking at figures of £47m for one footballer, I realise that that's different, but sometimes this world's just crazy," he says.
The family is at pains to point out that the care Josh Wills has been getting in Birmingham has been excellent. But that is not always the case.
Dr Shahana Hussein is an NHS doctor and the aunt of a young woman called Fauzia.
Two and a half years ago, 15-year-old Fauzia, who has autism, obsessive compulsive disorder (OCD), and attention deficit hyperactivity disorder (ADHD) was also unable to be looked after at home, where she had been attending a school that specialises in autism.
She was sent to a privately run assessment and treatment unit, where, says Dr Hussain, Fauzia was almost immediately held in isolation.
Dr Hussain says that until her niece was admitted she had been in full-time education and had never been restrained in her life. "She had never required intra-muscular injection, she always took tablets. But from the moment of the admission she was restrained, placed in seclusion, and for the majority of the time, especially in the first six months or two years, she was restrained repeatedly, numerous times a day."
Fauzia spent a significant time in isolation, naked. Dr Hussain says this was her way of avoiding any demands on her.
She believes that the staff saw Fauzia as a risk and as someone who was violent. Their response, she claims, was simply to contain her.
As a result, Fauzia tore her hair out and attempted to control the situation by taking her clothes off.
11 months ago the family managed to get Fauzia moved out.
"It was pure luck via Mencap and the Challenging Behaviour Foundation charities that we got her out," Hussein explains. "All the other systems of complaint didn't work. She has been out 10 months and has never been restrained since. This is a girl that never left the hospital grounds in 2 years, but she was out in the community within 24 hours."
Fauzia is a completely different person now. Her life is full and structured. She's back in education, back on tablet medication, has never been given an injection again. "It's like night and day, the difference in care," Hussein says.
The latest official report, outlining the progress being made in moving people out of these institutional Assessment and Treatment units in hospitals, and into community settings, was published this week.
Sir Stephen Bubb describes his report Winterbourne View - Time is Running Out as a "warning call".
Whilst praising the leadership shown by the NHS England CEO Simon Stevens, Sir Stephen Bubb also criticised the pace of change as "slow".
"It is outrageous that in the 21st Century we still treat people with learning disabilities and autism in this appalling way - seclusion, restraint, injections. It is unacceptable," he says.
Listening to families and relatives telling of their experiences, Sir Stephen said the situation makes him very angry.
Last year he wrote Winterbourne View - Time to Change following on from the BBC Panorama programme which uncovered abuse of people with learning disabilities at the Winterbourne View Assessment and Treatment unit near Bristol. Some staff were found guilty and jailed. The hospital was shut down.
But it shone a light on the widespread use of assessment and treatment units, run by both the NHS and private companies. Many charge around £3,000 per week. Some are known to cost more than £12,000 per week.
After the Winterbourne View scandal the previous government pledged to move as many people out of the units as possible. A Learning Disability Census was started. It showed that more people were being admitted into units than were being released. It also revealed that hundreds of people were incarcerated for years, and many people were living hundreds of miles from family or friends.
The government had promised to prepare to get thousands of people out of hospitals and into the community by June 2014, but that deadline came and went.
In February 2015 the National Audit Office published a report into the delays and concluded that Ministers had underestimated the scale and complexity involved. It also pointed to the fact that, under a new law, ministers no longer have the power to compel health and social services to provide and fund the new bespoke care that would be needed, because the power has been devolved down to the local level.
---
Families got in touch to give their opinions on the situation. Here is a selection of their views:
"Finding appropriate care and having this paid for by your local authority is an arduous battle that will challenge the most determined and committed parent, and this battle is on top of the ongoing difficulties of caring for my adult son with autism."
"This battle is now reaching its fourth year. It is only with free legal aid, which our son has qualified for, that we are nearing reaching our goal of care in the community."
"We have spent the past 20 years visiting my daughter in care homes all over the country. It takes over your life as a parent. It is so stressful for all the family. There seems to be no good quality specialised care. It is too upsetting to discuss. What I am hearing is very familiar. She is currently in a temporary care home where the local mental health team refuse to support her. We are waiting for a placement near us, but there is nothing specialised, so it's a case of Social Services finding a flat and then there will be the difficulty of sourcing staff to support her who can communicate with her via sign language."
"It is a national scandal. Taxpayers money is being wasted by the billions on inappropriate placements, treatment and assessment private hospitals, and clients lives are being wasted away for years in such places, even after The Winterbourne View scandal. The government said in its report that no client should be in treatment and assessment centres for more than 6 months. My daughter was incarcerated in one with no quality of life, from September 2011 to August 2014. She was also incarcerated in one from the age of 17 to 20."
Jane Cummings, Chief Nursing Officer for England and Chair of the Transforming Care Delivery Board, said: "All the agencies involved in this work are clear that while a great deal of progress has been made we still have lots to do to transform and improve care for people with learning disabilities.
"We are committed to driving through changes at a fast but safe pace, we are on track to do so, and I will be setting out the closure and re-provision plans in October as previously announced."
This discussion was first broadcast on Radio 4's You and Yours. Listen again here
Follow @BBCOuch on Twitter and on Facebook or email ouch@bbc.co.uk