Queen's Baton Relay: Papua New Guinea, New Ireland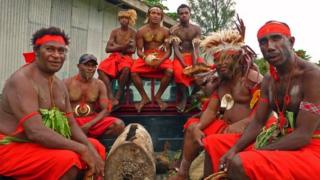 The baton has been warmly welcomed and literally blessed during its visit to Papua New Guinea. It has been overwhelming that everyone here was so pleased to share their culture and so proud to welcome the Queen's baton.
As the relay made its way on an amazing 55 mile journey around the island of New Ireland, it stopped as it entered the land of each village to be welcomed by clan chiefs.
Almost all of the land in Papua New Guinea is thought to be forest or swamp. The people of New Ireland are still mainly living as subsistence farmers, being self-sufficient and focussing on growing enough food to feed themselves and their families. People live in clans of matriarchal societies with land passed down on the mother's side.
I was told that nothing had ever happened like this here before. Having been mainly in cities up to this point, the relay I was getting used to was an organised event or ceremony surrounded by modern life. But here in one of the most remote parts of the Commonwealth, it seemed that every single person was out to welcome the Queen's baton in New Ireland.
It made me wonder what the people here thought, or even knew about, the rest of Papua New Guinea and the rest of the Commonwealth. It is so hard for me to really imagine their view of the world but I do know the spirit that I experienced must, and surely will, be imported to the games in Glasgow next year.
Moved Permanently
The document has moved here.