Queen's Baton Relay: The power of coconut oil in the Solomon Islands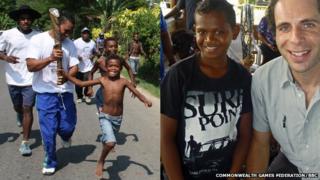 The Solomon Islands gave the Queen's Baton a wonderful and traditional welcome to the sound of panpipes, something that the South Pacific archipelago is famous for.
It was also met by Augustine Hane, the boy whose photo from four years ago unintentionally made him the face for the Queen's Baton Relay.
Like so much of the South Pacific, a lot of the Solomon Islands is picture postcard beautiful, with white beaches and the ubiquitous coconut tree. After a day with the Queen's Baton on a 10 mile dirt road relay in the western province from Gizo, it was back to the capital Honiara to find out what the islanders are doing with all these coconuts!
'Harvesting the coconuts'
Copra is the dried white flesh of the coconut and for centuries was a valuable export for the Solomon Islands. The tree was first brought to the islands by the English and from this came a successful Commonwealth trade.
These days, every part of the coconut tree is used by the locals and since the trade for copra has dropped and the cost of fossil fuel imports have increased, it may even be viable as a biofuel. To my amazement, I even found myself driving a 10 ton bulldozer that was fuelled by the oil of coconuts.
The Solomon Islanders call the coconut tree the tree of life, and you can see why.