Queen's Baton Relay: Marathon man targets 1500m at Glasgow 2014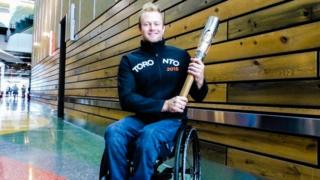 Canadian wheelchair athlete Josh Cassidy completed the 2012 Boston Marathon in a staggering time of one hour, 18 minutes and 25 seconds, shaving two seconds off a world record that had stood for eight years.
But he was devastated after failing to win a medal at the London 2012 Paralympics and in 2013 made the headlines for the wrong reasons at the London Marathon, when he was involved in a collision with women's favourite Tiki Gelana.
I caught up with Josh as the Queen's Baton toured Toronto, curious about a statement on his website: "Paralympic or Olympic? Call it what you want. I'm an athlete."
I was interested to know why he felt it so important to say this.
"In the UK things are good now. Unfortunately everywhere else, Canada included, coverage isn't the same. People don't know what's going on with Paralympic sports. On one hand you get the same respect as an Olympian, but on the other, no one can really identify or associate with it, as they don't see it."
Glasgow 2014 will be the first major championships at which Josh focuses on the 1500m since Delhi 2010. There he overcame illness to win bronze, his first major games medal. He explained how it was possible to train effectively for both distances.
"It is a bit different to running. It's a power and endurance sport, more comparable to speed skating or rowing. At last year's London marathon there was an eight-man sprint finish... hitting the same kind of maximum speeds as in a 1500m."
Biggest weakness
As his physique changes through training Josh has had to make some alterations to his equipment.
"I'm putting on mass on my legs, torso, chest and shoulders. This throws off the geometry of pushing the rings. Usually it's millimetres, but I've had to adjust the chair by an inch and a half."
He sees his top-end speed as his biggest weakness, and is working through some theories about body positioning and making the best use of his strengths.
"That is what I have always loved about sport, the challenges and that drive to get better, to be the best."
One challenge has been coming back after the London Marathon crash. Josh admits that he's had to pick himself up after a tough year.
"The big part for me was loving training again, and doing it for the love of the sport. There is still more I want to do, especially major games medals."
Which brings us back to Glasgow: "I am sure it will be amazing. The field will include six-time Paralympic champion David Weir and Australian rival Kurt Fearnley, so it's lining up to be a very competitive race.
"It is a milestone event. On such a world stage the crowds make it an amazing experience. I'm excited, as I've never been to Scotland."
As the Games approach, Josh looks back on the self-belief he's had from childhood. Growing up, he always imagined he would be a professional athlete competing for Canada.
"From an early age, I was always very active in sports. I always wanted to be the best. I was into defying odds, overcoming obstacles and adapting.
"When I started racing, it was a dream. The dream became a goal. The goal became a reality."