Newspaper review: 'Gay icon' Daley, drone delivery and political energy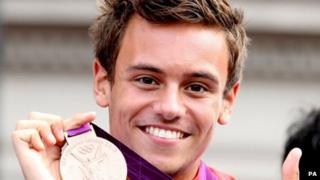 One man's face stares out from the front of most of Tuesday's front pages - the Olympic diver Tom Daley, who's announced he's in a relationship with a man.
The London 2012 bronze medallist's video statement was roundly applauded by the press, with the Independent's front page hailing him a "new gay icon". The Daily Telegraph's Matt cartoon depicts the public - watching TV on the sofa - holding up boards awarding 9.5 and 10 out of 10.
Gay rugby international Gareth Thomas, writing in the Mirror, says Daley will look back on Monday as "the best day of his life", while former international rugby referee Nigel Owens, who came out in 2007, calls it a "brave and wise" decision in the Guardian.
The Sun's showbiz editor Dan Wootton recalls coming out at the same age as Daley as "liberating and life-changing", while his paper announces the "war for tolerance is slowly being won in Britain".
News, or otherwise?
In her Daily Express column, Vanessa Feltz says she ignored the story on the grounds that "people's sexual proclivities don't constitute news". However, the Daily Mail recalls Daley's biographer being asked about the diver's sexuality before the London Olympics.
The Independent's Owen Jones says: "It shouldn't be news, but history shows it is". He contrasts Daley being "bombarded with love and support" with the fact that in 1983 "half of Britons believed same-sex relations were always wrong" but points out that LGBT people "are still abused, beaten up and yes, even killed in modern Britain".
And Matthew Parris in the Times, who wishes he'd had the courage to come out as a younger man, writes that Daley will now face the forces of intolerance attacking him in a different way, by asking: "Why don't you just shut up about it?"
Political commentator Jo Phillips, reviewing the papers for the BBC News Channel, said it was "terribly sad" that someone should feel compelled to publicly reveal their sexuality. Her fellow guest, the Sunday Telegraph business editor Kamal Ahmed, said it was "still a big issue" in sports.
Airborne delivery
Internet retailer Amazon's announcement of plans to launch a delivery service using drones causes much excitement, including in the Daily Express which produces a step-by-step photo guide to how it could work.
"We've checked the date. It's not April 1st," confirms the Sun.
But the Financial Times reckons the idea is still "a bit of a flyer". It notes that Amazon's announcement "triggered the blaze of publicity it wanted" but quotes one analyst as saying it was highly likely they would "hit high structures", and another adding: "I'm not sure that putting... drones in metropolitan airspace could ever be made safe."
The Independent speaks to the Civil Aviation Authority, which points out that UK rules force drone operators to have the aircraft within sight at all times during flight, and the paper quotes bookseller Waterstones seeming "amused rather than irritated" by its rival's publicity by claiming it was working on "specially trained owls" to deliver orders.
Heated argument
As the Daily Express warns of "crippling blizzards" to come, the papers have varying interpretations of the government's announcement that it was scaling back green levies in a bid to bring down the cost of energy bills.
"Millions of households who are locked in to fixed-price gas and electricity deals will miss out on the savings," notes the Daily Telegraph, which stresses in its opinion column that "the biggest problem the country faces concerns energy security".
The sketch writers have fun with the issue. The Telegraph's Michael Deacon has Chancellor George Osborne and Energy Secretary Ed Davey "rummaging frantically down the back of the Treasury sofa" to find cash to offer a cut in bills in response to Labour's pledge to freeze prices.
And Ann Treneman, in the Times, says of Mr Davey's appearance in the Commons: "It was never clear... how much of that £50 saved on bills would end up on our taxes." She describes him "trying to sell a £50 cut that was really a £70 increase", given bills had already been expected to rise £120 this winter.
Daily Mirror business editor Graham Hiscott calls it a "price cut con". However, the Sun argues it's the "grown-up solution... not Labour's price freezing gimmick".
Meanwhile, the Guardian reports the government coming under pressure from energy firms to cut more of their "green" requirements, which they argue add to the cost of bills.
And the Daily Mail reports one National Grid director calling the amount of electricity which British families use "a luxury".
Art to describe
The art critics do their best to translate for readers the qualities of Laure Provost's Wantee, which won this year's Turner Prize.
The installation involves visitors sitting in a mocked-up tearoom to watch a video exploring the lasting legacy of artist Kurt Schwitters through a fictional grandfather, while occasionally being offered tea and bum-shaped cakes by children.
It "sounds bonkers" and was, indeed, "oddball to a fault", according to the Telegraph's Mark Hudson. But he adds: "There's an intriguing layering of falsified memory and the processes of fiction, a messy experimentalism... an indefinable cosiness."
Adrian Searle, in the Guardian, calls Prouvost's art "sensuous, generous, affecting and more than a little daft" and says her "mix of real and fabricated objects, sprightly drawing, autobiography, fiction and wordplay... is fertile territory".
Rachel Campbell-Johnston, in the Times, calls it a "sprawling confection of painting, sculpture and text, all coaxed together into some approximation of sense by the filmed narration which forms the work's focal point". However, she admits sceptics will have all those "mixed feelings that the Turner Prize brings to the boil".
Making people click
Daily Mail: EXCLUSIVE: 'It's a complete lie!' Paul Walker's heartbroken sister angrily denies star was drag racing before his fiery death - as father and brothers comfort each other at family home
Daily Mirror: Video: Paul Walker death crash caught on camera by couple who thought action movie was being filmed
The Times: China's children driven to breaking point
Guardian: Invisible women: can you spot the mothers in these photographs?
Financial Times: Amazon drones face hurdles to get off the ground