Newspaper review: 'Danger' GP surgeries, John 'Scrooge' Terry and more selfies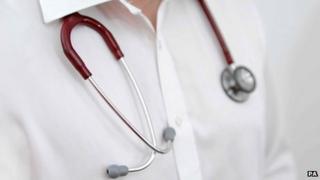 Concerns over standards at GP surgeries lead many of the papers, which report findings from the Care Quality Commission that one-in-three practices visited by inspectors failed to meet basic standards.
The Daily Telegraph highlights some of the worst, including one where inspectors found maggots in treatment areas, another where a lack of doors to consulting rooms denied patients privacy and a third which was found to have no resuscitation equipment and a "sharps bin" without a lid.
Reviewing the papers for the BBC News Channel, broadcaster Richard Madeley said: "These are institutional problems. I find it extraordinary that there are surgeries with maggots crawling over the floors."
Co-panellist, the Independent's editor Amol Rajan, said: "There's a deep-seated belief in Britain that the NHS… is something that just ought to be done in a really competent way and that's why it's politically toxic."
Bad signs
Nelson Mandela's memorial service continues to make the front pages in unexpected ways. This time, it's the revelation that the interpreter who signed along to speeches for world leaders turned out to be a fake.
"Who was the man waving his hands behind the president?" asks the Daily Telegraph, quoting deaf groups saying he simply made "childish hand gestures".
Telegraph columnist Tim Stanley reckons "the delight of a good hoax is getting away with it" but speculates the man might be a "cheap and bad" professional.
The episode was "to be deplored", says the Daily Express in its editorial, but adds: "Who can deny that there is also great entertainment to be had in the thought of the great and the good... being completely taken in by a merry prankster?"
It's a "sign of crimes", says the Daily Star, which dedicates almost a full page to a montage of the man's efforts, while the Daily Mirror says: "The signs aren't good," before describing how he "gesticulated gibberish before a global audience of millions".
The Mirror enlists deaf blogger Charlie Swinbourne to describe how he initially thought the man's presence was a "great example of how things should be done". But he continues: "As he started signing, something immediately seemed strange... The most suspect thing was the way he held himself, his body language and facial expressions."
Telegraph cartoonist Matt sums up the situation with four stick men using imaginary signs for: "What's he saying? Is he swatting a fly? Is Usain Bolt here? I think I'll take a selfie."
Bad taste
And thatself-portrait - taken at the service by the Danish premier with Britain's David Cameron and US President Barack Obama - continues to amuse and irritate in equal measure.
It made Stephen Glover, of the Mail, "tremble a little for the future of the free world". For him, it was no laughing matter and the three leaders "should have known better". "Where are all the grown-ups?" asks Grace Dent, in the Independent, who thanks heaven for the "cold, icy, barely tolerant gaze of Michelle Obama, the only adult present".
But Virginia Blackburn, in the Daily Express, asks: "What's the big deal? I do not understand these people who get so furious over such trivia. As for Michelle Obama sitting with a face like thunder, I suspect that had more to do with the fact that [Danish PM] Helle [Thorning-Schmidt] is a very attractive blonde."
The Mirror picks up on this suggestion by printing a photograph of Mr Obama kissing his wife's hand in what, it speculates, is a "bid to make up". It follows this up with a photo spread of "bad taste" selfies, including people on the loo, in an Auschwitz gas chamber, sunbathing with a relative's ashes, and one young father-to-be with his partner as she takes on gas and air.
Likewise G2, the Guardian's supplement, hands out awards for Best selfie - to astronaut Luca Parmitano's effort during a spacewalk - and to Helen Flanagan in "recognition of services to celebrity duckface".
The cartoonists follow in similar vein, Mac in the Mail drawing a vicar at a graveside snapping a group of waving pallbearers and the Telegraph's Blower sketching the Magi capturing the birth of Christ for posterity.
Bad education?
Music lessons won't make children any more intelligent, contrary to popular belief, reports the Daily Telegraph. It quotes Harvard studies suggesting there's very little evidence that playing instruments boost IQ.
The paper's editorial says it disproves "the one scientific fact that every responsible (or pushy) parent knew" and might offer sweet relief to youngsters bored by practising, before asking: "Isn't the discipline of learning the skill worthwhile in itself?"
The Independent's front page suggests "nature trumps nurture" in exam success, citing a study that concluded that a student's genes have more effect on their GCSE results than their teachers, schools or family environment.
Education editor Richard Garner says linking genetics to education has been perceived as the territory of the extreme right but adds that it could help teachers understand why pupils react differently to lessons, or aid development of tailored curriculums.
Daily Mail cartoonist Pugh pictures a stroppy youngster - approached with a poor school report - arguing: "It's all your fault, dad - terrible genes." Meanwhile, the Mail reports the chief inspector of schools' comments that "grade inflation" allowed education authorities to "fool themselves" about standards. Its editorial column approves, declaring him "top of the class" for a traditional approach advocating discipline and demanding tests.
Bad press
Former England football captain John Terry might have expected kinder headlines after he posed with fans while out shopping.
But the Daily Star digitally adds a Victorian nightgown and bed cap to the Chelsea stopper's face, giving him a pair of reading glasses and branding him "Scrooge". His crime? To join other bargain hunters in a branch of Poundworld.
"He can snap up 170,000 items with a week's wages," notes the Sun, which reports he spent £21 on wrapping paper, crisps, chococlate and garden items. "Don't get your hopes up for that Christmas present, Mrs Terry," is the Daily Mirror's headline, alongside the image that emerged of the defender with a 17-year-old fan.
The Star's cartoonist Scott follows the theme, picturing a young man at Poundworld's checkout being berated by his other half. "When I said I wanted to be spoiled like a footballer's wife!!" she rages.
Making people click
Daily Mail: George's first Christmas! A reindeer costume, Prince Harry dressed as Santa Claus and cuddly toy Corgis... but all is not as it seems
Guardian: Society: ACT gay marriage law is ruled invalid by high court of Australia
Financial Times: No one is immune from Beijing's 'gravity machine'
The Times: What the rich really spend their money on
Telegraph: Book on 'submissive wives' becomes hit in Spain