'Killer' smog, GCSE revamp, 'start school aged two' and Grand National 'formula'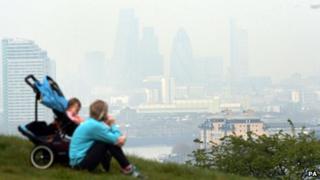 Papers take different views of the current UK pollution warnings.
"Keep kids out of killer smog," is the Daily Mirror's interpretation of the advice.
Meanwhile, the Sun examines England's "green, unpleasant sand", caused by Saharan dust blown north, and prints hazy images of Birmingham, London and Harrogate, in North Yorkshire. The Daily Mail quotes one woman saying: "I now know why I feel like I have a baby elephant sitting on my chest," while the paper's cartoonist, Pugh, pictures a man wearing desert headgear.
The Independent dispatches Paul Gallagher to Ely, in Cambridgeshire, which he says "did seem pretty quiet". But he sees "stoicism on display everywhere" as people refuse to let the smog spoil their plans.
The Express, which pictures one woman wiping sand from her car, puts the advice in a handy Q&A to explain who is at risk, why the smog is hazardous and when it's at its most dangerous.
Many papers use images of people with mouth and nose covered but analysis in the Guardian says most pollution is "colourless, odourless and tasteless, and mainly comes in particles so small they can pass through face masks". It points to World Health Organization figures suggesting one in eight of all deaths is linked to pollution.
The Mirror gives space to Jenny Bates, from campaign group Friends of the Earth, who calls for tough action to "clean up" cars and improve public transport to reduce pollution. "For the sake of your health, it has to be worth listening to the experts on this one," says the Daily Star.
However, the Daily Telegraph highlights "conflicting messages" from the government, saying that Public Health England has admitted that for most healthy people there is "no need" to remain indoors. But it does note an increase in the number of 999 calls related to breathing problems in some areas.
Geoffrey Lean writes in the paper that there is "nothing particularly special about this week's pollution, apart from the exotic element added by the Sahara sand", but that the government "usually keeps quiet about Britain's highly contaminated air".
Indeed, the Times says the cause of the panic was a Met Office "blunder". The paper says the service overstated the threat and that "people had been panicked partly because it had just introduced a new forecasting system". A Met Office spokeswoman is quoted saying it's better to overstate the risk rather than have people with health conditions being underprepared.
Seconds out... round two
Another week, another debate over Britain's relationship with the European Union. And the newspapers do their best to gauge who won.
Guardian sketchwriter John Crace watched Liberal Democrat leader Nick Clegg "waving his arms to show how much he cared" while his UKIP counterpart Nigel Farage "appeared to have rigor mortis in the opening camera shots", before the jokes and insults began. "It was all too much for [BBC host David] Dimbleby, who appeared on the verge of collapse," he adds.
As the Telegraph saw it, the debate "turned nasty", with the leaders making personal attacks, while its panel of four writers were split equally as to who won.
The Daily Mirror's Kevin Maguire scored the contest in favour of Mr Clegg. However, Mr Farage "clobbered" his rival according to the Express. Its political editor Macer Hall said the UKIP leader "kept his cool", while Mr Clegg "came across as shrill and shouty".
The Times scores the two leaders out of five on categories including key arguments, soundbites, jokes and statistics, and finds 17-13 in favour of Mr Farage. But its sketchwriter Ann Treneman reckons: "For two men with diametrically opposing views, they did seem awfully alike."
The Sun reckons Mr Farage "trounced" his opponent, printing the results of a YouGov poll suggesting the balance has swung in favour of Britain leaving the EU. The percentage of people in favour of an exit increased from 42 to 48%, while those wanting to remain in the EU fell from 48 to 45%, it says.
Matthew Engel, writing in the Financial Times, says there's "no sign that Mr Clegg - or perhaps what his opponent likes to call 'the whole political class' - has yet found a way of countering the growing power of UKIP's provincial populism".
"The pro-Europeans are going to have to do better than this," accepts the Independent's Donald MacIntyre.
Meanwhile, the Daily Mail's Quentin Letts sums things up by saying: "As another Clegg-Farage pillow fight ended here ringside, BBC referee David Dimbleby (looking like Michael Douglas these days) spoke for the nation. With just a hint of pop-eyed exhaustion, Dimbo turned to the camera and said: 'Well, I don't know if it made things any clearer or not.'"
Schools of thought
Plans to "peg" the grades of England's GCSE pupils to those of their Chinese counterparts lead the Guardian, which describes it as exam regulator Ofqual's response to Education Secretary Michael Gove's complaint that the marking system has been discredited by years of grade inflation.
However, it's the new grading system that interests the Daily Telegraph. It says the number of pupils awarded the top grade would be halved under a new one-to-nine system, replacing marks G to A*. Ofqual's aim, it says, is to mark out "really exceptional candidates".
The Times prints the proposed equivalents for grades, showing the current A* split into grades eight and nine. An A is equivalent to seven, while Cs translate into a four. Pupils currently awarded the bottom G mark could end up being unclassified, it notes.
Other papers, such as the Independent, focus on comments from chief schools inspector Sir Michael Wilshaw that children from poorer families need "high-quality, early education from the age of two, delivered by skilled practitioners with degrees" - and so should attend school as toddlers.
A report from Sir Michael's schools watchdog, Ofsted, will claim that at present disadvantaged children can be "up to 19 months behind in important skills such as reading and numeracy" by the time they start school, the paper says.
It may sound like a "crazy idea that would rob them of their early years", says the Sun. But the paper accepts that too many start primary school at a "huge disadvantage", adding: "It's a radical idea. But the government should consider it."
Winning formula?
Several papers are looking ahead to Saturday's Grand National at Aintree, and the prospect of the first royal winner in the race's 175-year history.
"When Princess Anne's daughter Zara Phillips discovered that husband Mike Tindall, 35, had brought a quarter share in Monbeg Dude at an auction five years ago, she called him an 'idiot'," says the Daily Express. The former England captain was reportedly drunk at the time.
However, the Daily Mirror says she has since "taken charge of weekly sessions to improve the second favourite's jumping ability ahead of Saturday's big race". This "shows who wears the jodhpurs in that relationship", suggests its editorial.
According to the Daily Star, Monbeg Dude has been tipped as the winner by a mathematician who claims to have found a "secret formula" to predict who'll be first past the post. Apparently, William Hartston uses bookies' odds, the horse's age, the letters in the owners' names and the number of words in the horse's names to draw his conclusions.
"Mr Hartston is no fool," says the Daily Telegraph, pointing out that he's an International Master in chess, but it adds that any correlations to do with names and letters are not causal. "Even so, heaven help us all, there's no reason why the 12-1 Monbeg Dude should not win. A modest wager might make the result more interesting... but don't blame Mr Hartston."
Making people click
Daily Mirror: Is this the photographic proof that fairies are REAL?
Daily Telegraph: Device exploded in bomber's face after he 'forgot about clocks changing'
The Times: Pressure on Cameron to bar Scottish constituencies at next election
Guardian: Australian government may ban environmental boycotts
Independent: Putin could invade Ukraine within a week, warns Nato chief