Heat alert, Tulisa's 'drug deal for movie role' and reshuffle backlash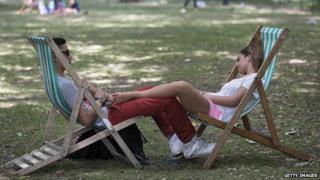 A Met Office warning of a heatwave set to send temperatures towards 91F (33C) ahead of the weekend creates plenty of headlines.
The Daily Express has the story on its front page, suggesting there are fears the conditions could cause "hundreds of deaths", with hospitals on notice of increased numbers of admissions. It also notes concerns about "smog" building in cities, amid raised pollution forecasts.
The menace is caused by a "Spanish plume" - "a blast of scorching air from the Costas" set to make Britain "an El of a lot hotter" - reports the Sun. The Daily Star isn't too worried. "It's Tahiti hotty," it declares, picturing just a few of the people enjoying temperatures higher than those in the South Pacific island. "Brits are stocking up on bikinis, barbecue food and beer," the paper adds.
Still, the Daily Telegraph reports that "people in the South East, East and Midlands have been told to keep out of the sun between 11am and 3pm". It lists official advice to use sunscreen, wear loose-fitting clothes, drink cool drinks, and never to leave people or dogs locked in hot cars.
"The Heatwave Plan does not explicitly advise them to suck eggs, but there will no doubt be a helpline via which they can receive tuition on the best way of doing so," remarks the paper's editorial. Also among the "patronising - and bizarre" guidance, reports the Daily Mail, is a tip to keep cool by switching off lights and non-essential electrical equipment.
Still "the suncream will not be needed for long", notes the Times, saying violent thunderstorms are forecast for the weekend. They may bring some respite from the humidity but - says the Daily Mirror - they could lead to flooding, with alerts in place for parts of eastern Wales and eastern Scotland.
---
Feeling the backlash?
The Daily Mail reports no fewer than six "backlashes" against David Cameron following his reshuffle of Conservative ministers, ranging from accusations of "buying off" sacked ministers with knighthoods and perceived backbench plotting to a Tory whip reportedly describing new Treasury Minister Priti Patel as a "PR girl".
"Perhaps this made-for-TV reshuffle (complete with beauteous, thigh-flashing, new lady ministers") was not Mr Cameron's finest hour," argues the paper's editorial.
However, the Guardian reckons it's the Mail facing the backlash. The middle-market tabloid's examination on Wednesday of nine ministers' dress choices, complete with reference to new Employment Minister Esther McVey's slit skirt, was branded "completely outrageous" by one government whip, the Guardian reports.
Times sketchwriter Ann Treneman enjoys turning the tables by describing deposed Education Secretary and new Chief Whip Michael Gove "wearing a pink shirt and, I am happy to report, trousers" in the Commons, where Ed Miliband sported a "fuchsia red tie" and the prime minister was "also wearing trousers". Her Mail counterpart, Quentin Letts, joins in by saying of Mr Gove: "Phwoarr!, what a looker in his Ronnie Barker glasses."
Meanwhile, it's Miss McVey's ministerial - rather than sartorial - style that impresses the Telegraph's Hannah Betts. Describing a "media assault" that took in Sky News, the BBC and ITV before mid-morning on the minister's first day in the job, she writes: "Rarely is politics in receipt of a genuine 'breath of fresh air' but, in the Conservative MP for Wirral West, it has one: smart, sassy, a slogger, with the ability to talk like an actual human being."
---
Echoes of war
The press gets an early glimpse of London's Imperial War Museum, which reopens to the public on Saturday.
"Overhead are a Spitfire and one of Hitler's doodlebugs. Below lie the rusting remains of car blown up by a suicide bomber in Baghdad, a memento of a more recent conflict," writes the Times's Valentine Low of the sights that greet visitors to the site's newly reconfigured atrium.
Alastair Sooke, writing in the Telegraph, finds the previous "zone of adventure and Biggles-like fantasy" - which seemed "designed to appeal to little boys" - has been replaced. "There are fewer bits of massive combat apparatus on show. The effect, therefore, is restrained, ordered and elegiac - a little like a war memorial." The bombed Iraqi car, he says, carries a message: "Any lingering sense that IWM London is in the business of glorifying war should be banished."
For the Mail's Ian Drury, the effect is no less spectacular. He says the museum now has "the stories of human conflict at its heart", adding: "Many visitors will find the small, personal objects most moving, for instance diaries, letters and the wallet of a soldier killed in battle which holds faded photos of his wife and children."
Nick Clark, in the Independent, writes of the newly configured Great War galleries with their 1,300 exhibits: "They include an overhauled 'trench experience' that has gone from using a 'plasticky' set with mannequins dressed up to using new technology that can show life on the front."
The Guardian's Maev Kennedy says: "Its tasteful replacement is a straight grey mud-textured passageway, with projected silhouettes of soldiers; though ominously overshadowed by a real Mark V First World War tank and Sopwith Camel overhead, it's no more frightening than an office foyer."
However, the Daily Mirror's Emily Retter found herself "dwarfed by towering mud walls". She writes: "The noise is deafening. A fighter plane roars, men yell for gas masks, there's choking, pounding feet, sniper fire. Breathlessness and fear hang in the air. Then briefly, there's eerie silence."
---
Not cricket?
Photographs of cricketer Gary Ballance "dancing topless - and indisputably legless", according to the Guardian, are reproduced by the papers after England coach Peter Moores "reminded him of his responsibilities".
"Pictures of a drunk Gary Ballance will do little to improve the image of a national side looking to win back the affections of a disillusioned public," reckons the Mail's Paul Newman, although he notes it was the batsman's day off.
Meanwhile, there is much debate about charges levelled against pace bowler James Anderson, that he abused and pushed India all-rounder Ravindra Jadeja at lunch on day two of the first test.
Mike Selvey, in the Guardian, says that whatever happened there is no suggestion it had a racial element - unlike some previous "level three" misconduct charges. "Perhaps common sense will prevail, although breath is not being held on that one, but if some good does emerge it may be that this serves as a warning shot across the bows that there are levels of behaviour on the field, rather than off, beyond the bounds of which it is not acceptable to go."
The Telegraph reports England captain Alistair Cook's suggestion that the claims are "Indian dirty tricks" to unsettle his side, while one of his predecessors, Michael Vaughan, describes the incident as a "pathetic row". He writes in the Telegraph: "If he had thrown a punch then Jimmy should be banned but a little shove and some verbals? Just get on with it."
However, another ex-England captain, Nasser Hussain, writes in the Mail: "If Anderson has pushed Jadeja and the punishment for that is a suspension, then he should be banned." Either way, says the Times's in-house ex-England skipper Michael Atherton, "given a schedule of five tests in six weeks, no-one should be surprised at the tension surfacing" between the sides.
---
Making people click
Daily Mail: 'I only wanted to make £50 profit!': Dress made from 24,000 LOOM BANDS sells on eBay for an eye-watering £170,000 (plus an extra £7 for delivery)
Guardian: Vagina selfie for 3D printers lands Japanese artist in trouble
Times: Israeli shells kill four boys playing football on beach
Daily Mirror: Manchester United's Louis van Gaal to cull TEN of David Moyes' squad