Robin Williams tributes, Iraq crisis and Lauren Bacall's death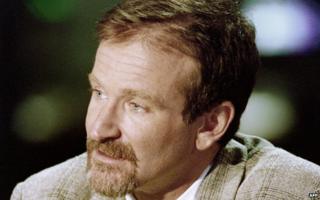 The death of actor Robin Williams continues to occupy many pages in the national press.
Although it was reported in later editions of Tuesday's papers, the story is on the front of most of Wednesday's tabloids. They focus on the circumstances surrounding his death after officials in California announced that Williams, 63, killed himself by hanging after seeking treatment for depression.
Reviewing the papers for the BBC News Channel, Times deputy political editor Sam Coates said this raised issues for newspaper editors: "It's where trying to find out what happens clashes with questions of tone. One of the problems we have is that the American public authorities… spew out really personal details almost immediately, almost always live on air."
His co-panellist, Guardian social affairs editor Ramesh Randeep, said: "There's a difference between physical details of someone's last hours being revealed, which is a reasonable thing for a coroner to put out, and getting into someone's mind and ascribing that as a cause of death, which is a problem."
---
'Wonderful human being'
Several papers ask comedians to pen their thoughts about Williams's craft and character. Jim Davidson recalls in the Sun how once, before a gig in California, he was panicking about whether the American crowd would understand his humour. Williams reassured him: "Don't worry, Jim, it's the same audience all over the world."
Russell Brand remembers in the Guardian sitting on his nan's floor as a child watching Williams on TV, and describes his genius as "defined by irrationality". "He seemed to be sat upon a geyser of comedy. Like he didn't manufacture it laboriously within but had only to open a valve and it would come bursting through in effervescent jets."
Similarly, Monty Python star Terry Gilliam writes in the Daily Mirror that Williams could "channel half the information in the universe and turn it into a tsunami of jokes that flowed out of him". But he also talks about Williams the "wonderful human being", recalling that once - while filming at 4am - he launched into a 45-minute stand-up of fresh material: "He had a joke or a reference about everyone in the crew. How many stars would know the whole crew well enough to do that?"
However, Alexei Sayle - whose London comedy clubs hosted Williams on numerous occasions - writes in the Daily Telegraph: "It was only through watching him that I saw that what seemed spontaneous was in fact the result of a huge amount of work. Eventually, if you watched long enough, the same bits came around again (though never in the same order), so you could see that he had a massive store of maybe four hours of material backed up in his brain and that he would bring the material out as he needed it."
The Sun's editorial says: "[Williams] had everything. And his appeal was universal — men, women, adults and children, we all loved him. The tragedy is that, despite that love, he was in the grip of depression. If any good can ever be said to come from a suicide, it might just be that his death helps more people to realise that no one is depressed 'about' anything, any more than they are diabetic about something. Depression is an illness to be treated."
The Daily Star argues that the word "genius" can be used far too flippantly but adds: "Robin Williams's talents as a comedian and an actor definitely justify the term."
Meanwhile, the Times pays tribute to his skills in straight roles, saying: "Williams became the actor who created the template for styles that others complimented by copying and then turning them into cliches. After Dead Poets Society every screen teacher was a communicator with the souls of the young and Good Will Hunting set the standard for soft-spoken but sad empathic psychologists."
---
Case for intervention?
British Chinook helicopters are on stand-by to help rescue thousands of Yazidi people who are stranded on a mountainside in northern Iraq having fled from Islamist militants, reports the Daily Express. As the Mirror sees it, the UK faces a race against time with "48 hours to save them".
The Guardian says Britain is also strengthening its involvement in Iraq by "flying military equipment on behalf of Jordan to Kurdish forces fighting Islamic State (IS) jihadists in northern Iraq".
The paper says Britain has some sympathy for the French view that Europe should provide arms directly to the Kurds but that the government might stop short of that because doing so "might be a step too far for the Liberal Democrat side of the coalition".
However, Iraq War veteran Col Tim Collins writes in the Telegraph that the current "token assistance" from the RAF isn't enough. "If IS is not defeated, those ancient peoples, who have survived for millennia, will be extinguished today, on our watch. Dropping bottles of water won't cut it. Putting laser-guided bombs on to the heavy artillery that IS took from the Iraqi military will."
Breen Tahseen, a British-based Iraqi diplomat and son of the leader of the Yazidis, tells the Independent he wants the UK to supply small arms to his people so they can defend themselves. "We ask all European countries to give residency to the people - they aren't safe in Iraq," he adds.
The Sun hears the case for intervention from figures including BBC World Affairs editor John Simpson, who reckons "we'd feel sick with ourselves for years to come" if the West failed to act and the Yazidis were wiped out. Former Defence Secretary Liam Fox says "we need the government to act", while Channel 4 News presenter Jon Snow argues: "If the United Nations means anything at all, this is its hour. This is what it is for - to marshal the world community by agreement. To intervene to save human life."
Ex-British ambassador to the US Sir Christopher Meyer argues in the Sun that we were right not to intervene in Syria - when "we might have found ourselves fighting alongside IS" - but says the situation in Iraq is "a humanitarian crisis so threatening that intervention becomes an imperative".
And the Times's front page suggests that Britons' attitudes to military action may be softening. It quotes a poll which suggests that 40% of people would back airstrikes against the militants, against 36% who are against the idea.
---
'Golden age goddess'
For a second consecutive night, the newspapers found themselves updating later editions to mark the death of a Hollywood screen legend. This time it was Lauren Bacall, who is believed to have suffered a stroke.
"Farewell to Lauren, goddess of Hollywood's golden age," reads the Express's headline, above a report describing her as "one of Hollywood's leading ladies, known for her distinctive husky voice and sultry looks".
For the Guardian, she was the "tough-talking femme fatale who taught Humphrey Bogart how to whistle". That's a reference to her breakthrough role in the 1944 thriller To Have and Have Not, in which - as the paper puts it - she "purred" at her co-star: "You know how to whistle, don't you? You just put your lips together and blow."
The Mail recalls how she married Bogart a year later, when she was 20 and he 45, and they had two children before his death from oesophageal cancer in 1957. The Mirror quotes from her autobiography in which she describes her nerves at working alongside the screen great for the first time: "I realised that one way to hold my trembling head still was to keep it down, chin low, almost to my chest, and eyes up at Bogart." The paper adds, "the look became her trademark".
As the Independent's website points out, Bacall was Oscar-nominated only once, although the Academy presented her with an honorary award in 2010. The paper suggests: "Perhaps to escape the shadow of Bogart's fame, Bacall carved out a great stage career, winning two Tony Awards - for Applause in 1970, and Woman of the Year in 1981."
---
'Old' medallist
Jo Pavey's feat of becoming athletics' oldest female European Champion winning the 10,000m at the age of 40 gives sub-editors plenty of scope for headlines.
"Pavey comes of age with historic gold," writes the Times, describing her as "fortysomething special". For the Guardian the track in Zurich was simply "Pavey with gold", as it declares the four-time Olympian "no ordinary Jo".
Others focus on the fact she gave birth to her second child just 11 months ago, with the Mirror declaring Pavey's the "mother of all victories" and the Independent saying: "Mum's the word". "Oh baby!" screams the Star, noting that tot Emily "watched her [mum] race for the very first time". The Express's John Wragge writes that Pavey "won something new for her kids to play with last night with a European Championship gold medal", or perhaps - as the Sun rather less charitably calls it - it is an "old medal".
---
Trojan horse?
Ukraine is to refuse entry to a convoy of 280 trucks carrying humanitarian aid from Moscow, reports the Financial Times. The paper says that Kiev has warned its neighbour that any illegal crossing into its territory would be treated as "an act of aggression".
Noting that the International Committee of the Red Cross said that the means of transporting aid to those who need it had yet to be worked out, the Guardian says: "The prospect of Russian intervention in eastern Ukraine - the scene of fierce fighting between Ukrainian troops and Russian-backed separatists - has alarmed the US and EU."
The paper says Russian state TV claimed the convoy contained 2,000 tonnes of aid, including grain, sugar, medicine, sleeping bags and power generators for those trapped by the fighting. However, the Telegraph hears from a US State Department spokesman that they "don't know" if the contents are entirely humanitarian and that Washington continues to have "concerns" over Russia's motives.
Times cartoonist Morten Morland sets out the fears of Kiev and the West by drawing a white truck crossing the border in the shape of a Trojan horse.
---
Making people click
Telegraph: Vast tomb unearthed in northern Greece
Financial Times: Record income gap fuels US housing weakness
Metro: It's confirmed people - S Club 7 ARE bringing it all back
Times: Once again Israel finds it has no alternative