Alan Henning pleas, Champions League 'Hartbreak' and mosquito 'invasion'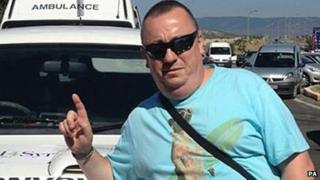 As voters go to the polls in the Scottish independence referendum, the event dominates front pages once again.
However, in common with other broadcasters, the BBC is reporting only factual accounts of the election throughout polling day to avoid influencing the outcome. So, a focus on inside pages reveals concerns over the wellbeing of British hostage Alan Henning, who is being held by Islamic State militants in Syria.
The Sun reports how Muslim friends of the 47-year-old taxi driver have made a video appeal, entitled Call of Mercy, calling for him to be spared. "Abu Abdulla from Al Fatiha Global, the charity behind the convoy, said Alan thought he was safe because he was delivering aid," the paper reports.
The Guardian quotes from the video, which says of Mr Henning: "His only interest was helping to relieve the suffering of brothers and sisters in Syria. Please do not take his life to pay for the crimes that the international governments have committed." The message ends: "Please, please, please release Alan."
A similar plea, albeit it stronger terms, from more than 100 Muslim leaders appears in the Independent.
"The un-Islamic fanatics are not acting as Muslims, but, as the prime minister has said, they are acting as monsters," reads the letter from signatories including the Muslim Council of Britain's secretary general, along with imams from Derby, Manchester, London and Birmingham.
"They are perpetrating the worst crimes against humanity. This is not jihad - it is a war against all humanity."
Meanwhile Dr Huw Dylan, of King's College London, explains in the Daily Telegraph why it's so difficult for British agents to track down hostages and their captors.
"The US withdrawal [since the Iraq War], and former Iraqi prime minister Nouri al-Maliki's divisive politics, have undermined much of the impetus for local cooperation," he says, while relations with the Syrian government make the problem even more acute.
"The technological capability of Western intelligence to capture terrorist communications and turn them into actionable intelligence for military or police forces is hampered by the lack of operational presence on the ground," he adds.
---
Reality bites
An Indian summer is promised by the Daily Express, which reports forecasts of 80F (27C) for parts of Great Britain on Thursday, but readers might be wise not to buy in the barbecue meat packs just yet. "There could be some heavy showers and thunder around the south by this evening," warns a Met Office spokeswoman.
And if it feels a little tropical for September, there could be another side effect. The Daily Star says "killer mutant mosquitoes" are the latest nasties to be "invading" the UK. A day after it warned of giant spiders taking advantage of weather conditions to overrun homes, it says Asian Tiger mosquitoes have been spotted on the continent and could be heading this way.
Ferry ports are on alert after scientists warned the insects could bring two potentially deadly diseases - dengue fever and West Nile virus - into the country, says the Telegraph. "An outbreak of dengue fever in Britain would be unprecedented. In a small number of severe cases, infection can lead to a sudden drop in blood pressure, bleeding, organ damage and death," the paper adds.
The Daily Mail quotes a Public Health England official saying that the mosquitoes have adapted to lay eggs in tyres which can lie dormant for up to 18 months during transport, before hatching when conditions are right. The paper reports advice to gardeners to prevent the insects breeding, including "turning upside down buckets, emptying paddling pools that aren't being used, unblocking drains and putting lids on water butts".
---
Big news
Obesity is back in the news, with the papers quoting the opinions of NHS boss Simon Stevens on the problems it poses for public healthcare. The Daily Mail paraphrases his speech with the headline: "Obesity is like a slow-motion car crash that could cripple NHS."
It also quotes him criticising many of the organisation's local trusts for failing to support staff to stay healthy when he said: "Only a third of trusts give support to lose weight." The Telegraph picks up on his suggestion that employers could be given tax breaks in return for setting up slimming clubs, team weigh-ins and jogging groups. Mr Stevens was speaking from experience, the Times points out, given he was helped to lose weight by UnitedHealth, the US company where he was an executive.
Meanwhile, a study suggests "the more fat friends someone has, the more they could risk failing to spot their own weight problems", according to the Daily Mail. One researcher is quoted saying this "fat blindness" could have serious public health consequences because people "need to recognise obesity if they are to be motivated to change".
Obesity stats "never fail to depress" Dr Miriam Stoppard, who writes in the Mirror. "One in three of us is walking around with blood sugar that is always higher than normal, three times as many as eight years ago," she complains. "Along with that high blood sugar comes a raft of nasty consequences - eye problems, kidney problems, circulatory problems (even amputation), impotence, heart disease, aortic aneurysm and stroke."
Those who replace sugar with artificial sweeteners in a bid to help them lose weight might not have much luck, according to a report in the Financial Times. It cites a study by Israeli researchers suggesting than artificial non-calorific sweeteners like saccharin might promote obesity, rather than preventing it, because of the way they affect the metabolism. However, the research comes with a health warning from one researcher who says: "In no way are we saying that sugary drinks are healthier than drinks with artificial sweeteners."
---
Affairs of the Hart
No fewer than five papers use variations of the phrase "Hartbreak" to describe the feelings of Manchester City fans after they lost to what the Sun calls a "last-gasp fluke" goal from Bayern Munich in the Champions League. The spelling is a nod to goalkeeper Joe Hart, who had pulled off several outstanding saves to keep his side on level terms, and was - according to the Mail - close to tears at the final whistle.
To make matters worse, it was City old-boy Jerome Boateng who inflicted the damage when his shot deflected off team-mate Mario Gotze. Still his old team-mate was on hand to offer Hart a consolation cuddle, caught on camera by the Mail.
If that was tough on fans of the team in sky blue, spare a thought for some of those who'd sat through Liverpool's match with Bulgarian side Ludogorets Razgrad. According to the Sun, "it was not pleasant for viewers with red-green colour blindness" - reportedly one in 12 UK men and one in 200 women. Liverpool's all red was indistinguishable from their opponents full green kit, says the paper, quoting one tweet which complained the players just appeared as "floating heads" against the backdrop of green pitch.
The paper has its "colour-blind Sun man" Dean Scoggins review the game and he complains: "I shouted 'penalty' when two players on the same team collided, I'm not sure which."
---
Making people click
Mail: DNA samples taken from murdered Britons on Thai beach 'don't match ANY of the arrested suspects, including British brothers who had been questioned', claims local media
Telegraph: Ancient 'moon god' monument unearthed in Israel
Financial Times: Fed renews pledge on low rates
Mirror: Having problems downloading iOS 8? Here's why