Scottish independence poll scenes, hostage John Cantlie fears and hunt for girl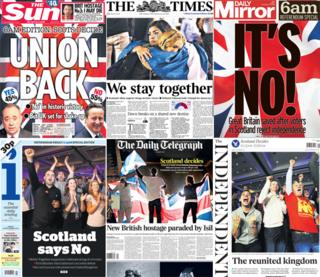 Many papers produced late editions to carry the news that Scots voted "No" in the historic independence referendum.
Earlier copies had been steeped in the atmosphere of a historic polling day that decided the future of both Scotland and the United Kingdom.
"From Inverness to the Borders, the queues formed before polling stations opened. In Paisley, schoolgirls in blazers cast their ballots en route to lessons. And close to Gretna Green, an English couple dodged the cameras - their shyness caused by eloping to the 'Yes' camp when their family thought they were No," says the Independent.
"There were tears, nerves, and laughs, as millions of Scots seized their moment of destiny," writes the Daily Mirror's Brian Reade. "In the capital Edinburgh there was a tangible buzz and an energy. The skies were grey but the people seemed to have an extra spring in their step, whichever way they were voting."
The Daily Mail's Quentin Letts says Glasgow's George Square "felt like Cairo". "Honking cars circled the square, flying flags from the windows and sun-roofs of top-spec Mercedes sports cars. Some of the Yes voters had even put up signs renaming it 'Independence Square'."
The Telegraph's Jim White was also in Glasgow, on the trail of "switherers" - the undecided - only to find "more canvassers than voters". But he adds: "There were more members of Catalan television news crews than there were canvassers." That's a reference to the interest in the vote from the Spanish region of Catalonia, which also has a strong independence campaign.
One voter he did catch up with joked: "This is the West End of Glasgow... We'd much rather think about something than actually do it." However, she reckoned most had made up their minds and just weren't telling, with White quoting her as saying: "Half the population round here are lawyers and the other half are academics. We're very experienced at not answering questions."
---
'The excitement, the noise'
Many of the papers feature piper Ryan Randall, his bagpipes aflame, on their front pages as he marched at the head of a "Yes" campaign procession. But, as Telegraph sketchwriter Michael Deacon discovered: "Oddly enough, he wasn't Scottish at all, but American, and had only arrived from Las Vegas in July, making him unable to vote."
Still, any fears the procession could make for an intimidating atmosphere proved unfounded, the writer says: "It didn't feel threatening or aggressive. In a way, it didn't even feel political. It felt more like a parade, a community day out, in which neighbours who might never previously have spoken joined together, young and old, and marched not merely for an ideological goal, but for the excitement, the noise, and the shared spirit."
It wasn't like that everywhere. "The historic referendum vote was marred by isolated reports of intimidation, abuse and violence," writes the Independent's Nigel Morris, explaining that one polling station was sprayed with "vote yes or else" graffiti, pro-Union billboards were reportedly vandalised and police were posted outside polling stations in some areas. Meanwhile, the Times says fighting broke out and a Union Jack was set alight during tensions between "Yes" and "No" campaigners in the centre of Glasgow, while there were a handful of reports of voter intimidation.
The Daily Express reports that tennis star Andy Murray was the target of "vile abuse" over a tweet he posted supporting the "Yes" campaign, hours before the polls opened. However, the Daily Mail's take is less sympathetic, pointing out: "He lives in a £6m Surrey mansion and rakes in millions in advertising cash from representing GB - and, oh, he didn't even have a vote," as it prints a selection of comments from the backlash to its online story.
Despite these isolated flashpoints, the Financial Times sums up the atmosphere as a "mood of celebration".
---
'Morning-after feeling'
Some papers anticipate the mood in the respective camps as they emerge from their slumbers, with Karen McVeigh in the Guardian predicting a "mixture of gut-wrenching anxiety tinged with excitement normally felt among football fans before an important game".
One psychologist tells her: "For those losing, there will be shock and anger and utter disbelief that will last a few days; then denial for a few months. It takes about five or six months to viscerally understand how deep these changes will be. This could lead to dark nights of the soul."
Whichever side won, Scotland "woke up to a huge hangover" after voters went on a "big bender", according to the Daily Star. The paper says bars reported a 20% rise in profits, as many stayed open all night to take in the results. "Many voters held street parties or danced the conga in busy city squares, with bagpipes of course," it adds.
The Guardian says the cold light of day will bring lessons, including that "people aren't apathetic, they just need something they feel is worth turning out for" and that Westminster now has the same reputation as Washington in the US as a "corrupt, self-serving elite that neither understands nor cares about the way people live in the rest of the country".
The Mirror's Kevin Maguire looks back over the campaign to pick the winners, including ex-PM Gordon Brown, SNP deputy Nicola Sturgeon and young people, given the chance to vote at 16. His losers include rival newspaper owner Rupert Murdoch, whose "political myth" - that he "creates winners" - Maguire says exploded when he refused to back either side, and PM David Cameron for looking "irrelevant".
The Times, meanwhile, says the "Yes" campaign's tactics will be "pored over by future generations" of political strategists, desperate to get people out to vote.
---
'Devolution revolution'
The Daily Telegraph reports the calls from Conservative and Labour MPs alike to shake-up Parliament, whether to limit the power of Scottish MPs to vote on devolved issues in Westminster or to devolve some powers within England.
The paper also quotes the Local Government Association chairman saying trust in Westminster is "shattered beyond repair" and calling for local areas in England and Wales to get the same powers as those in Scotland.
The Sun says PM David Cameron will respond by outlining a "devolution revolution". It says: "He is expected to lay out a plan to 'rebalance' how all four nations are represented, signalling more direct power for English MPs and their voters".
And Labour MP Frank Field suggests in the Sun that those MPs who back the enhanced devolution offered by the Westminster leaders in the final days of campaigning face being "kicked out" by voters. He adds: "If Scotland gets tax-raising powers over income, MPs must realise it is a nonsense to deny the English their own parliament."
Several northern English newspapers, including Newcastle's Journal and Chronicle, the Northern Echo, Yorkshire Post and Manchester Evening News, are calling for the region to be given greater powers to ensure it is not "squeezed between an over mighty London in the south and a resurgent Scotland".
Meanwhile, Wales "will face an uncertain constitutional future, with its voice much diminished as London grapples with the fallout" from the Scottish campaign, reports the Financial Times.
---
The other vote
The referendum wasn't the only historic vote taking place in Scotland on Thursday. The other one "was a landslide victory and did not lead to a major constitutional meltdown," writes the Daily Telegraph's Holly Watt.
After 260 years, women have been granted the right to become members of the Royal and Ancient Golf Club at St Andrews. "Its 2,400 all-male membership had been urged by club secretary Peter Dawson to 'do what's right for golf' in the postal vote," says Owen Gibson in the Guardian, with 85% of those who who took part agreeing to the motion.
The Daily Mirror's editorial welcomes the decision, saying: "The home of golf lifting its ban on women after 260 years means it finally qualifies to change its name to the Royal and Modern."
However, the Times's cartoon suggests not everyone will be pleased. It pictures a glum husband reading news of the result, while his wife tells him: "Better together, dear."
---
Video analysis
As a new video emerged of another Briton kidnapped by Islamic State (IS) militants, the Times profiles its subject. Journalist John Cantlie is a photographer of "exceptional and sometimes reckless courage, as well as his charisma and sardonic humour", the paper says, noting that he had been taken prisoner before.
The Independent's Kim Sengupta remembers trying to help Mr Cantlie the last time he was kidnapped, and speaking to Syrian opposition fighters who said they aimed to free him.
He next spoke to his fellow journalist in London in December 2012. "He was going back to Syria and wanted to meet the fighters I knew who had said they'd helped to free him," Sengupta writes.
The Daily Mail recalls that Mr Cantlie was the official photographer on the Enduro Africa charity bike ride undertaken by Princes Harry and Prince William in 2008.
David Williams in the Daily Mail analyses the latest video, saying the TV studio-style setting offers no clues as to the kidnappers' location. "There are no signs of the beatings many of the hostages have endured," he says, wondering whether he used an autocue given how rarely his eyes wander from the screen.
"Gone is the dramatic landscape, the butchery, the horror-film effects," writes the Telegraph's Richard Spencer, saying it's been replaced by a "calm television address".
Criminologist Prof Andrew Silke writes in the Sun that it's a "cunning new strategy" on behalf of IS, to give the impression he supports the group's aims. However, he writes: "Mr Cantlie is undoubtedly under duress. They've got guns and knives. He has nothing."
Deborah Haynes, in the Times, hears from one former SAS commander, who says: "If they had an Islamic head-hacker saying: 'I am telling you my brothers this is the way forward', no one would believe it or listen to it." Undermining any such effort, writes Haynes, is the fact that IS beheads and tortures its hostages: "Anyone watching the video would understand that Cantlie is co-operating under duress even though he looks calm."
---
Border security
Revelations that a Latvian man sought by police in relation to the disappearance of missing west London teenager Alice Gross has served time for murder prompt the Daily Mail to ask: "Why was he ever allowed to into [the] UK?"
It hears from the mother of the woman killed by Arnis Zalkalns, who says he destroyed her family, while the paper's James Slack says the Latvian is "the latest in a long, terrifying list of killers, rapists and other serious criminals able to slip into Britain using EU free movement rules".
"It is deeply troubling that extremely violent criminals are not being properly tracked and monitored," says the Daily Express's editorial. "It is high time we won back the power to control who can and cannot come into this country." However, the Daily Mirror's Tom Pettifor says that criminals coming to the UK from the EU are stopped at the border if they are judged to represent a "genuine, present and serious threat". He quotes a source saying that entry of EU nationals who have served time for murder would be judged "on a case-by-case basis".
The Daily Telegraph's leader column explains that by opting out of the Schengen Agreement, which removed frontiers throughout much of the EU, the UK remains able to bar entry to criminals considered to be a danger. "But the wherewithal to do so is only as effective as the information available to border officials and the ease with which it can be accessed," it adds. And the Home Office Warnings Index - which contains information shared by foreign countries, including European Union states, on terrorists and criminals - has been declared "at risk of collapsing" and contains a great deal of "out-of-date information", the paper points out.
"A European criminal records system (ECRIS) was set up in 2012 after it was recognised that convicts were able to escape their pasts by moving between EU countries," says the Independent. "Britain opted out of the system in 2012 as part of a wide-ranging withdrawal from more than 130 justice measures to take back powers from Brussels. It then announced it was rejoining 35, including ECRIS."
---
Making people click
Mail: That's all folks! Pregnant Holly Willoughby breaks down as she presents This Morning for last time before birth of her third child
Telegraph: Police probe electoral fraud in Glasgow
Guardian: Florida shooting: man kills six grandchildren and daughter in murder-suicide
Times: Labour are the biggest losers from this fight
Financial Times: Is the midlife crisis just an excuse?