Newspaper headlines: Grammar schools at centre of Budget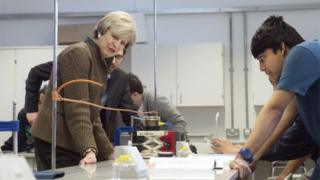 With just a day until the Budget, there is much speculation in the press about what the chancellor has in store for us - and most papers seem to agree that education will take centre stage.
Under the headline "class war," the Sun says the financial statement will allow for the creation of another 140 free schools and suggests the majority of the 70,000 places could be allocated by selection.
The headline in Daily Telegraph describes the move as the "dawn of the grammar schools revolution."
The Guardian says it is "a priority for the prime minister" but calls it "a controversial policy".
The Times believes Philip Hammond is an economic reformer and "a technocratic moderniser" but not someone likely to produce rabbits from a magician's hat.
The i thinks there will be give and take and plenty of "fine detail".
The Daily Star predicts the price of a pint will go up but expects tax on fuel to stay the same.
The Daily Express makes the case for "an injection of funding" into social care for the elderly.
---
The political sympathies of the Daily Mirror and the Daily Mail may be miles apart, but both are worried by the French takeover of Vauxhall.
The Mirror says there has been a "renaissance" in British car-making - the Mail calls the revival "one of Britain's greatest success stories".
But the i asks what will happen in two to three years' time.
The Financial Times thinks "consolidation" in the industry is logical, and asks how the new owners will achieve the annual savings they aim to make without cutting jobs.
The Mail fears the response by ministers so far has been "wishy-washy, and the Mirror urges the government to use both carrot and stick in safeguarding the Vauxhall plants at Ellesmere Port and Luton.
Matt's cartoon in Daily Telegraph links the national pride people invest in their cars to the uncertainties the future may bring.
A man comments to his neighbour: "Your Vauxhall is now French. Will it be allowed to stay in the UK after Brexit?"
The Guardian looks even further ahead, to a world of electric cars.
It has no doubt that "the future of the car industry is clearly electric", making city streets cleaner and quieter, and, it suggests, speeding up transport.
But for that to happen, it says, the government must help "the development of battery technology".
---
The Sun and the Mirror both devote their front pages to what is, in effect, a wedding announcement.
They report that Paul Burrell, the royal butler regarded by Princess Diana as her "rock", is to marry his boyfriend.
The civil partnership ceremony, "a circus themed" event according to the Sun, will take place in the Lake District next month.