Newspaper headlines: Reaction to independence referendum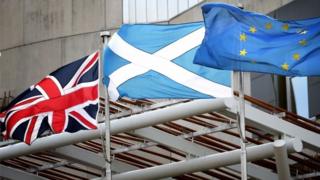 Two days after First Minister Nicola Sturgeon surprised Westminster by announcing she wanted a second referendum on Scottish independence, the papers have a range of opinion polls about public reaction.
The Times leads with YouGov research that suggests 57% of Scottish voters oppose independence, against 43% in favour.
The paper says this gives Downing Street some breathing space, since it indicates the debate has not shifted in Ms Sturgeon's favour in recent years.
The Scottish Daily Mail has its own poll, which finds 53% of people opposing independence.
It says this sends a clear message that Scotland "does not want another divisive campaign to break up Britain".
The Daily Telegraph is one of several to highlight the separate finding of the ScotCen social research survey that a majority of Scottish voters are not committed to the EU.
It says the SNP's case is "unravelling" and it has now retreated from its plan for Scotland to join the EU, instead hoping to join the European Free Trade Association.
Telegraph defence editor Con Coughlin accuses Ms Sturgeon and her allies of wanting to "destroy" the UK as a world power.
He says Scottish independence would affect Britain's military bases and would delight Russia by making a truth of Vladimir Putin's claim that the UK is "an irrelevant small island".
An alternative view comes from George Monbiot in the Guardian who argues Scotland is right to "cut the rope".
"Britain is politically dead from the neck down," he says, "while Scotland's politics is charged with hope, and a fierce desire for change."
---
A European court ruling that companies can ban employees from wearing visible political or religious symbols is welcomed by the Daily Express as "common sense".
The paper says the right to express faith is important but it should not mean that some faiths are given special treatment.
The Guardian notes that the difficult decisions were left to national courts, while the Times, which calls the ruling sensible, adds a note of caution.
It would be wise not get too excited, it says, as the European Court of Justice writ runs here only as long as the UK remains in the EU.
---
Internet firms such as Google and Facebook are condemned by the Daily Mail for offering "feeble excuses" for their failure to tackle abusive content on their pages.
Its editorial says the companies were given a "richly deserved pasting" by MPs when their executives appeared before a committee to talk about hate crime and abuse.
"If newspapers printed such material," it thunders, "they would be hauled before the courts."
---
The Telegraph says a government consultation has begun on whether first-class rail carriages should be scrapped on some busy commuter routes.
The paper welcomes the review of services run by Southeastern, saying its own research has found that many of the most expensive seats are left empty even on rush-hour services into London.
The Mail asks if this is the end of first class and notes that part of the government proposal is for more passengers to stand up during their journeys.