Newspaper headlines: Fallout from May's referendum stance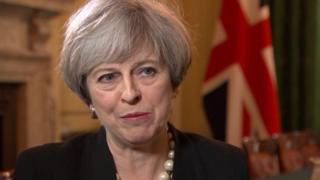 Many of the papers lead with Theresa May's decision to rule out a second referendum on Scottish independence until after Brexit negotiations have concluded.
The Financial Times says the rejection raises the stakes in the UK's constitutional debate - and risks turning moderate Scottish voters against the union.
But it adds that Mrs May's statement also enabled her to take the initiative following damaging headlines about the Budget U-turn and revelations about the Conservative Party's election expenses.
The headline in the Scottish Daily Mail is "Hallelujah!".
It is delighted that Mrs May has rejected the SNP's demands and says a second independence referendum is off the agenda for years.
It describes Mrs May's announcement as a "bombshell" that will come as a relief to millions of Unionists.
---
An investigation by the Times has found that taxpayer-funded adverts on YouTube have been inadvertently funding extremists.
It says the government has joined a number of big brands in pulling millions of pounds of marketing from the website, which is owned by Google, after it was found that rape apologists, anti-Semites and banned hate preachers were receiving payouts from publicly-funded adverts.
The paper reports that Google executives have been summoned to the Cabinet Office to explain their position.
A spokeswoman for Google is quoted as saying the company has "strict guidelines" relating to advert placement.
---
A number of papers analyse the results of the general election in the Netherlands.
The Guardian says European governments heaved a collective sigh of relief as Dutch Prime Minister Mark Rutte retained his position as the leader of the largest party.
The Financial Times points out that the result produced a significant shift to the right - with many party leaders using similar messages and language as the populist politician Geert Wilders.
In an editorial, the Times says Europe's mainstream politicians would be foolhardy to assume normal service had resumed.
It believes the control of borders, poor social integration of newcomers, resentment about the power of Brussels and fears about the erosion of national identity will continue to preoccupy voters, including in the forthcoming French and German elections.
---
Finally, many report on the return of Blind Date to our TV screens.
The Daily Mirror says the show is being relaunched on Channel 5 with a new presenter, Paul O'Grady, a close friend of the late Cilla Black who hosted the hugely popular series in the 1980s and 90s.
The Daily Mail says it will still have the sliding screen and three-question format - but will also include gay and transsexual contestants for the first time.