Newspaper headlines: Dismay and derision at Osborne job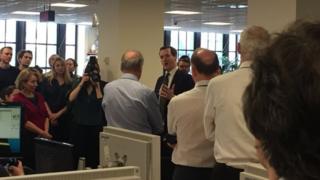 Most of the papers greet George Osborne's appointment as the editor of London's Evening Standard with dismay and derision.
The Sun calls the move "staggering", saying the potential conflicts of interest are obvious: "How can a Tory MP edit a paper holding politicians of all stripes to account? How can he prioritise London while championing Tatton and the north?"
The paper concludes that he is "doing a disservice to Parliament, his party and his voters".
Daily Mirror columnist Alison Phillips is even more scathing, writing: "Total, utter contempt - that's how George Osborne is treating you, me and everyone else who is paying his MP's salary out of our taxes, while he sashays off for a job as a show pony newspaper editor."
The Daily Telegraph reports that Mr Osborne's new job has provoked "fury" in Downing Street.
The paper says allies of Theresa May - the woman who sacked him from the cabinet - believe he will seek to use his "new power base" to "slam" the government's Brexit plans.
The i newspaper is one of several to refer to the former chancellor as "six jobs George" - highlighting the many positions he intends to juggle, including his £650,000-a-year role at the asset management firm Blackrock.
But writing in the Times, Matthew Parris is one of the few voices who welcome Mr Osborne to the Fourth Estate.
"He's got something serious to say," he writes, about a Tory party "paralysed in the headlights of a dangerous surge in reckless populism and in thrall to its own right wing".
Mr Osborne may find an unlikely bedfellow in one of his former political rivals.
In an interview in the Guardian, Tony Blair speaks about his desire to play a part in the political debate by helping to push back what he calls "frightening authoritarian populism".
Mr Blair tells the paper he wants to use his new think tank to arm front-line politicians with strategies to rebuild the centre ground, which he says risks being corroded by "an indifference to liberal democracy".
Highlighting the recent election results in the Netherlands, the former prime minister says even where populism does not win, it "influences and distorts debate."
---
Many papers report on Theresa May's comments that the government may intervene to control energy prices.
"Energy bill cap" is the headline in the Sun, which says the prime minister will next week "force energy firms to lower tariffs for millions of struggling families".
The Telegraph says claims of an imminent cap are premature, with Downing Street refusing to be drawn on what its plans will be.
---
While Mr Osborne may be facing criticism for taking on too many jobs, Prince William continues to come under scrutiny for not doing enough.
Many of the papers query what exactly "Workshy Wills" was up to on the lads-only skiing holiday, where he was captured on a mobile phone dancing at a disco.
The Daily Mail identifies what it calls the "trio of tearaway toffs" who were by the prince's side throughout the trip.
The royal companions, whom it says are known to have been involved in "raucous" and sometimes "vulgar" behaviour, are described as "a divorced ladies' man, a booze-loving boxer and a bottom-baring party animal".
"No wonder Kate can't abide them," says the paper.