Newspaper headlines: Ex-ambassador attacks Trump and policing with drones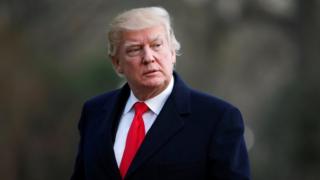 A scathing attack on Donald Trump by the man who was the British ambassador in Washington until last year makes the lead for the Guardian.
Sir Peter Westmacott accuses the president of "peddling falsehoods" after his press secretary Sean Spicer claimed the British intelligence agency, GCHQ, had tapped Mr Trump's phone.
He says Mr Trump's refusal to correct the unsubstantiated allegations is "gratuitously damaging" the intelligence relationship between Britain and America.
Theresa May is preparing to crack down on bosses who use self-employed workers to avoid paying sickness, pension and maternity benefits, according to the lead in the Times.
It says a review commissioned by the prime minister is expected to conclude that a growing number of companies are taking on supposedly self-employed workers for jobs previously carried out by salaried staff.
The paper says that in response ministers are going to draw up stricter rules about what constitutes genuine self-employment.
Mrs May's chancellor, Philip Hammond, is considering a drastic cut to pension tax relief to plug the black hole caused by the U-turn on national insurance, according to the Daily Express.
The paper suggests such a measure would be destructive, saying any tax regime that discourages people from saving for their retirement will create huge problems for the future.
Flying squads
In its lead, the Daily Mail says police are turning to unmanned aerial drones to pursue suspects as well as hunt for missing people.
Officers in Devon and Cornwall are launching the first 24-hour drone unit in the summer, and the Sussex and Surrey forces are now considering whether to follow suit.
Senior officers say these new flying squads would be cheaper than using helicopters and could also perform some of the duties of bobbies on the beat.
In an editorial, the paper warns the drones must not be used to reduce the number of officers on the street and it says their use raises privacy concerns.
"The state-funded eye in the sky swooping on our every move is the stuff of Orwellian nightmares," it concludes.
The dailies take their opportunity to pay tribute to Chuck Berry, who died on Saturday.
"Rock 'n' roll's first guitar hero and poet" is how the Guardian sums him up as it reflects on the musician's life.
The i says his influence was yesterday underlined by the "reverberating chords of praise" which came from artists ranging from The Rolling Stones to Bruce Springsteen.
He was also, in the Daily Mirror's words, "a pioneer of the murkier side of rock".
The Times notes that he demanded promoters pay him in suitcases full of cash before he took to the stage - a practice that subsequently led to a prison sentence for tax evasion.
And in concert he became infamous for checking his watch in mid-song as he wouldn't perform for a minute longer than his contracted time.