Newspaper headlines: Brexit begins as UK 'steps into the unknown'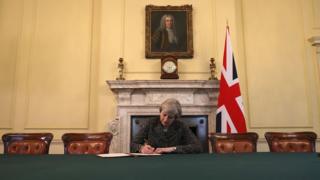 The triggering of Brexit talks gives the graphic designers at The Guardian something to get their teeth into. The paper's front page depicts a jigsaw of the European Union, from which the pieces representing the UK have been removed.
In the space that is left is the headline: "Today Britain steps into the unknown".
The i paper adopts a similar approach. Its front page has a satellite image of the whole of Europe, with a dotted line around Britain, and a picture of a pair of scissors, as if readers are being invited to cut out the UK.
Under the headline "our future is at stake", The Daily Mirror argues that we have reached what it calls "the business end of Brexit" and that everyone - whether they voted remain or leave - has an interest in Theresa May achieving the best possible deal.
The PM, it says, "must get this right, or we won't be the only generation to suffer". The Times agrees, urging negotiators on all sides to lay aside "short-termism" and think of future generations.
The Sun believes it is vital that people across Britain get behind Mrs May as she holds what it describes as "constructive negotiations, leading to a mutually-prosperous friendship with our former EU partners".
---
Care crisis
The Daily Express highlights the case of Ivy Smith, a 95-year-old widow from Essex, who it says may have to leave the house she has lived in for 70 years because she cannot afford increases in her social care charges.
The paper says the charges are going up from £19 to £98 per week. Essex County Council says it was forced to cut discounts for Mrs Smith - who served as a Land Girl in the Second World War - because of a lack of government funding.
But The Express reveals that the authority is now re-assessing that decision. A council spokesman urges people concerned about their care bills to call its helpline. Under the headline "our elderly deserve better", the paper describes it as a "heartbreaking example" of the care crisis.
There is a call in The Daily Telegraph for Gordon Taylor to step down as chief executive of the Professional Footballers' Association (PFA) made by relatives of Jeff Astle, a former England international who died at 59.
Mr Astle suffered from brain damage, thought to have been caused by repeatedly heading a football. Mr Astle's widow, Laraine, tells the paper that Mr Taylor should resign because his organisation has done nothing to protect players from the potential risks.
But Mr Taylor denies that accusation, insisting that the PFA has supported the Astle family and is doing all it can to conduct research into the problem and encourage other football organisations to recognise it.
---
Who won 'legs-it'?
The Daily Mail continues to defend its publication of a photo caption about Nicola Sturgeon and Theresa May's legs.
It describes itself as an "equal opportunities leg puller" - giving examples of how it has, over the years, lampooned things such as David Cameron's sunburned torso, and Boris Johnson's floral shorts. There is a section devoted to male politicians' legs.
Ed Miliband's are described as "darling little twiglets", while George Osborne's are "chunkier than expected, with a pleasing hairiness to them".
Get news from the BBC in your inbox, each weekday morning