Newspaper headlines: Army's '£10bn' shortfall and NHS delays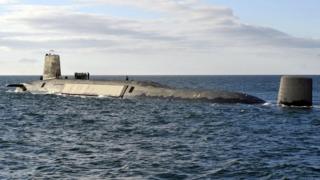 The Times leads on a report that the armed forces are facing a £10bn shortfall amid escalating costs for new ships, jets and Trident submarines. The paper says military chiefs are aiming to find at least £1bn a year in additional savings over the next decade.
It claims cost-cutting measures could include reducing the size of the Royal Marines and suspending overseas training. The Times quotes an officer with knowledge of the funding problem, who warns that the crisis will have an effect on everything the military does.
The Ministry of Defence says spending is continually monitored to ensure the defence budget focuses on front-line priorities and delivers value for money.
---
Security 'blackmail'
The Daily Telegraph says the first EU law to be scrapped after Brexit will be the legislation that makes it difficult to deport some foreign criminals.
It says the Brexit Secretary, David Davis, was greeted with cheers when he told MPs that the Charter of Fundamental Rights would be removed from British law.
The Guardian, meanwhile, says ministers have embarked on a "desperate attempt" to play down claims Theresa May is attempting to "blackmail" the EU by linking trade deals to the UK's co-operation on security concerns.
It writes that Mr Davis spent much of yesterday on the phone, trying to reassure European diplomats.
Get news from the BBC in your inbox, each weekday morning
Demonising dairy
The Times accuses food bloggers of turning a generation away from dairy products.
A survey by the Food Standards Agency found that 46 per cent of 16 to 24 year olds believe they have an adverse reaction to dairy - while only five per cent of British people are actually lactose intolerant.
The paper says many popular bloggers have promoted a so-called "clean eating" ideology which espouses that dairy products and gluten are bad for health. One writer has claimed that milk causes the bones to lose calcium - despite NHS advice to the contrary.
---
From legs to toes
The Daily Mail's preoccupation with the legs of female politicians continues. The paper says Scotland's first minister Nicola Sturgeon "showed off" her toes while signing the letter requesting a second independence referendum.
The Mail was criticised earlier this week for focusing on Ms Sturgeon and Theresa May's legs during talks on Brexit.
The Daily Mirror features a startling picture of a five-foot-long bull shark lying dead in the middle of a road in the Australian state of Queensland.
It is believed the "huge man-eating shark" was washed up during Cyclone Debbie, which has left a trail of destruction across the north-east of the country.