Newspaper headlines: Peers 'paid for doing nothing' and the 'reborn' blue UK passport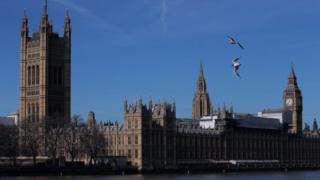 An investigation into the expenses paid to members of the House of Lords is one of a mixture of stories to feature on Sunday's front pages.
The Sunday Times reports that some peers are claiming up to £40,000 while making little or no contribution to debates, committees or questions.
It says critics of the payments, including some peers, have attacked the allowance system as "broken" and called for an overhaul.
The paper says the latest revelations are a blow to the reputation of the upper house, which has expanded to more than 800 members in recent years.
---
'Reborn' blue passport
The headline on the Sunday Express is "True blue passport reborn". The paper says "Britain's iconic dark blue passports" are to make a return as part of a £500m post-Brexit redesign. It claims high-level discussions have already taken place with potential bidders for the contract.
The paper reports that the new travel documents will replace the burgundy EU passports, which it says have been previously described as "a source of national humiliation". The paper says the new passports will start being issued in 2019 - the year Britain is due to leave the EU.
Get news from the BBC in your inbox, each weekday morning
Stab vest video
The Mail on Sunday's headline is "Google blood money". It claims the internet firm has cashed in on what it describes as a "sickening" YouTube video that shows viewers how to kill a person wearing a stab vest, similar to one worn by police officers.
According to the paper, the video was online for six months and was viewed nearly 250,000 times, generating thousands of pounds in advertising revenue. The paper says the video was easy to find online, despite promises made last week by YouTube's owners, Google, to crack down on extremist and illegal material.
A spokeswoman for YouTube tells the paper that the video has now been removed and that it deletes content that breaks its guidelines, when it is made aware of it.
---
Terror alert
The Sunday Telegraph says Britain's airports and nuclear power stations have been told to tighten their defences because of increased threats to electronic security systems.
The paper says the security services have issued a series of alerts in the past 24 hours, warning that terrorists may have developed ways of bypassing security checks.
It quotes intelligence sources who believe groups have developed ways to plant explosives in laptops and mobile phones that can evade airport security screening methods.
---
Brexit and the NHS
There's continuing coverage of Brexit in many of the papers.
Writing in the Sunday Mirror, the former Greek finance minister Yanis Varoufakis says Theresa May has "miscalculated" her Brexit strategy. Citing his own dealings with EU officials while negotiating an economic bailout for Greece, he says the UK will get a similarly rough ride. He maintains that nothing good for Britain or the EU will come out of the two-year process.
The Sun on Sunday says Theresa May is poised to launch what it calls a "Brexit trade blitz" in an effort to find new markets when Britain leaves the EU. It says the prime minister has instructed senior ministers to spend the Easter break selling Britain abroad.
As well as the chancellor going to India, it says International Trade Secretary Liam Fox will visit five countries in the Middle East and Asia to drum up inward investment into the UK and enhanced trade links.
A cross-party group of MPs are demanding that the government guarantees that EU nationals will still be able to work in the health service after Brexit, according to the main story in the Observer.
The paper says concern is growing that Britain's departure from the EU will lead to a critical shortage of doctors and nurses. It reports that Conservative, Labour and Lib Dem MPs also want ministers to promise that recruitment from the EU can continue.
A government spokeswoman said overseas workers formed a crucial part of the NHS and organisations that depended on migrant labour would continue to be able to recruit workers from abroad.
---
Diesel 'taxes'
There's a warning for drivers of diesel vehicles in the Sunday Times. It reports that they face so-called "toxic taxes" of up £20 a day in 35 towns and cities across England as part of a new government crackdown on vehicles that cause air pollution.
It adds that in nine or 10 of the worst affected areas, diesel cars and commercial vehicles could also face bans during peak hours. It says the measures will be unveiled by Environment Secretary Andrea Leadsom next week, who will order local authorities to draw up plans to deal with nitrous oxide and particulate pollution - which is largely caused by diesel engines.
---
Parliament refurbishment
Plans for a multi-billion pound refurbishment of the Houses of Parliament are to be pushed into the long grass, according to the Sunday Telegraph.
The paper says it can reveal that ministers are planning to refer the proposals to a group of experts to scrutinise. It says that means a final binding vote on what should happen to the building may not take place until 2020.
It points out that the decision to delay the process is likely to create a backlash from MPs and peers who have warned that the building is so unsafe if could suffer a "sudden, catastrophic failure".
---
Corbyn 'forced' to stay on?
The Sunday Express reports that Jeremy Corbyn will be forced to continue as Labour leader "against his will". It says a plot by his allies to ensure he is succeeded by another left-winger looks doomed to fail at the party's conference in September because of an expected increase in moderate delegates.
It points out that thousands of Labour members have either chosen not to renew their subscriptions or have resigned, with an internal analysis showing that more than 60,000 members left in the last week alone.
The paper quotes insiders saying Mr Corbyn would stand down if any rule change were to be approved. However, Mr Corbyn's team have denied he wants to quit as leader.
---
Prince Charles 'in therapy'
The Sunday Times is one of a number of papers to pick up on reports of a new biography of Prince Charles, which claims he saw a therapist for 14 years during his marriage to Princess Diana.
It says the American author, Sally Bedell Smith, paints a disturbing but not unsympathetic portrait of a husband struggling to cope with what are said to be his wife's "emotional storms".
It also highlights the author's observation that Charles' awkward personality and the psychological agonies he endured during the break-up of his marriage can be traced at least in part to a difficult childhood.