Newspaper headlines: Trump on Syria and Labour revolt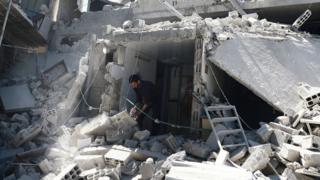 Many of Thursday's newspapers feature a picture of a distraught father in Syria carrying his nine-month-old twins to their final resting place after the suspected chemical attack in Idlib province.
It is on the front of the Daily Telegraph, which says Abdulhamid al-Youssef, a 29-year-old supermarket cashier, had been at work when the air strike hit close to his home at 06:30 local time.
He rushed home and at first his family seemed OK, but about an hour later, his wife, his children and his brother, along with nephews and nieces, had all been overcome by the chemicals and died.
According to the Sun, the sight of Syrian children lying dead from a chemical attack should not come as a shock.
The newspaper says they are the tragic legacy of the West's inaction in 2013, when global leaders agreed to unite to stop President Bashar al-Assad gassing his own people, then one-by-one, ducked out of intervening.
Guardian columnist Jonathan Freedland makes a similar point, writing: "Assad's impunity is being noted by the world's most brutal regimes; the precedent is being set. This is what you can get away with."
Elsewhere, the i reports that the UK has a secret plan for detente with the Kremlin.
The newspaper says it has learnt that Theresa May's government has made discreet approaches to Moscow in an effort to improve relations between the two countries.
One un-named diplomat tells the paper: "Britain has to improve relations with Russia, if only because that's what the Americans are going to do."
And someone described as "a senior European diplomat" says: "We characterise the British position now as pragmatism taking over from dogmatism."
'Ugly conclusion'
The Daily Mirror has a sobering assessment of Labour as a "party in chaos... ripping itself apart, this time over Ken Livingstone".
"No wonder it trails by some distance in the polls," it adds. "A period of silence from the former London mayor would be greatly appreciated."
According to the Guardian, Mr Livingstone's statements ooze contempt for the Jewish community.
Labour has said his actions were wrong, but he is still in the party.
"An ugly conclusion is inevitable," says the newspaper. "Labour values Mr Livingstone's membership over the fight against anti-Semitism. 'Zero tolerance' was a lie."
The Daily Express salutes what it calls a "barnstorming speech" by MEP and former UKIP leader Nigel Farage in the European Parliament on Wednesday, in which he accused EU leaders of acting like the mafia in seeking to hold the UK to ransom over Brexit.
The parliament's Italian president rebuked Mr Farage, who replaced the word "mafia" with "gangsters".
In an editorial, the Express says "bullying Eurocrats [have] a lot in common with the mafia".
The Telegraph's sketch writer notes that Mr Farage issued the EU with warnings of his own, including: "We don't have to buy French wine."
"This was a serious threat," says Mr Deacon. "If Mr Farage stopped drinking French wine, whole vineyards would go out of business."
'Death taxes'
According to the Times, the government's plans for increases of up to £20,000 in probate fees have been thrown into doubt.
It says a parliamentary panel of experts has ruled that the rises have the "hallmarks of taxes rather than fees" and are therefore unlawful.
The newspaper says it means the fees, which are due to take effect next month, could be delayed, if not scrapped.
However, the Ministry of Justice says its plans remain unchanged and they will create a fairer system, with over half of applicants paying nothing and more than 90% paying less than £1,000.
Finally, the Daily Telegraph reports that a couple in Italy have lost a court case over the overpowering smells from their cuisine.
Neighbours complained about them cooking up vats of pungent pasta and mixed fried seafood, with one telling the court: "It smelt like their kitchen was in my flat".
The couple were convicted of the crime of "olfactory molestation".