Newspaper headlines: Tory manifesto and FBI chief fired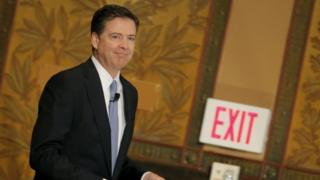 The Financial Times reports that Ed Miliband's former policy guru has held talks at 10 Downing Street with one of Theresa May's most senior advisors.
It believes the meeting between Labour peer Maurice Glasman and Nick Timothy is the clearest sign yet that the Conservatives are moving aggressively to win the middle ground it says has been abandoned by Jeremy Corbyn.
It adds that several campaign themes adopted by Mrs May, including the promise to cap energy prices, mirror pledges made by Mr Miliband in 2015.
But it points out that the disclosure is likely to unsettle Thatcherite Tories who fear Mrs May is seeking to reposition the Conservative Party.
Get news from the BBC in your inbox, each weekday morning
The Times reports that Mrs May has promised MPs the chance to repeal the ban on fox hunting, while voicing her personal support for the pursuit.
It says Mrs May's surprise commitment will rally countryside sports activists to help the party's election efforts.
A ban on hunting with dogs in England and Wales was introduced under Labour in 2004, and anti-hunting groups say most voters support it.
---
The New York Times leads on what it describes as the "abrupt" firing of FBI director James Comey.
It says Mr Comey's dismissal is a "stunning development" for a president who benefited from the FBI investigation of Democratic nominee Hillary Clinton during the 2016 campaign.
The Washington Post comments that although the dismissal happened rather quickly it was not altogether a shock.
It says Donald Trump has been in the market for a reason to sack Mr Comey because he saw him as a wild card who had the ability to make his life difficult.
---
A number of papers report on comments made by European Commission President Jean-Claude Juncker.
The Sun says he has admitted that the leaks about his dinner with Mrs May were a "serious mistake".
The Daily Express adds that he denied he was the source of the leak.
The Times reports on some possible fence-mending by Mr Juncker with him quoted as saying he is "getting on well" with Mrs May whom he also describes as "a tough lady".
---
The Daily Telegraph highlights comments by the country's most senior family judge that separating elderly couples in care homes is "inhumane" because "people die of a broken heart".
The paper says Sir James Munby told a conference that uprooting older people could cause their health to decline more quickly.
He urged professionals to take a "common sense" approach and to think carefully before recommending that an older person should be separated from their family, home and possessions.
---
Finally, many of the papers comment on Philip and Theresa May's joint appearance on the the BBC's The One Show.
The Telegraph's Michael Deacon thinks Mr May came across well, describing him as "cheerful, smiling and unassuming", although adding that "he always looks like he's just arrived from the 1950s".
A body language expert tells the Sun that the husband and wife "moved, spoke and gesticulated in an identical way", suggesting "high levels of rapport".
Mr May's revelation that he puts the bins out - with Mrs May saying "there are boy jobs and girl jobs" - has Times political sketch writer Patrick Kidd wondering whether that implies boys sort out the recycling and stack the dishwasher, while girls cut school budgets and bomb Syria.
Writing in the Daily Mail, Quentin Letts concludes that it was "mission survived" for the couple who, he says, came across as unpretentious, genuinely fond of one another and, above all, normal.