Newspaper headlines: Election debate sparks reaction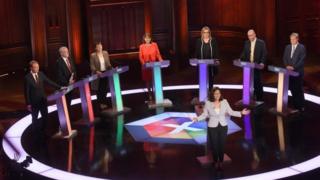 The BBC election debate features prominently in Thursday's papers.
Theresa May's stand-in, Amber Rudd, is pictured on the front pages of the i newspaper and the Daily Telegraph.
The i headline reads simply: "Ambush", saying that the home secretary was targeted by her rivals.
The Guardian agrees, saying the debate was "largely open pack warfare" on Ms Rudd with the audience "cheering on".
She is praised by the Times for being sturdy and commanding, while the Telegraph's sketch writer Michael Deacon suggests she should take Mrs May's place for the rest of the campaign.
The i believes the prime minister should buy her a large drink.
The Telegraph and the Times both point out that Ms Rudd agreed to take part just 48 hours after the death of her father.
For the Daily Mirror, though, Mrs May's absence from the debate was an "arrogant miscalculation by a panicking prime minister".
The paper's editorial wonders if she wishes she had resisted the temptation to call a snap election.
The Times highlights the latest YouGov poll which shows the Conservative lead over Labour falling to just three points, with Labour - at 39% - enjoying their highest rating since February 2014.
The paper says YouGov's results are at odds with other major pollsters, who have the Tory lead ranging from six points to 15 points.
The Daily Mail says a key Tory strategist has challenged YouGov bosses to a charity bet over their predictions.
YouGov says its findings are the result of the "most sophisticated analysis ever deployed".
---
The Telegraph leads on taxation, highlighting figures showing a record number of people are now paying the highest rate of income tax.
The paper says thousands have been "dragged" into what it calls an "unfair bracket" by wage inflation and cuts to pension relief.
According to HMRC, 340,000 people will pay income tax at 45%.
---
The Times reports that health commissioners in Oxfordshire want to encourage GPs to prescribe fewer medicines to the elderly by allowing them to share in any savings achieved by cutting prescriptions.
Joyce Robins, of campaign group Patient Concern, tells the paper that the plan amounts to a "bribe".
The Oxfordshire Clinical Commissioning Group said the aim was to encourage practices to audit and review their prescribing, and promised that safeguards would be put in place.
---
The Guardian reports that authorities in Florence, fed up with tourists eating food while sprawled on the steps of Renaissance churches, have come up with a radical deterrent
They are using waterhoses to make surfaces too wet to sit on.
The Telegraph quotes the Mayor of Florence, Dario Nardella, as saying the city is "not a place for impromptu picnics".
"When I went to Istanbul I didn't sit down in front of the Blue Mosque with a mortadella sandwich and a coke," he says.
Get news from the BBC in your inbox, each weekday morning