Newspaper headlines: Papers react to London attack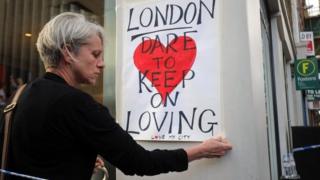 Many of the Sunday newspapers changed their front pages for their second editions to reflect the terrorist attack in London on Saturday night which killed seven people and injured 48 others.
The Telegraph headline reads "Carnage across London as 'terrorists strike again'". Its website is leading on live updates of the attack, with a dramatic picture of a suspect on the ground, with what appears to be "canisters strapped to body". Police have said the attackers were wearing fake bomb vests.
The Sunday Times second edition describes a lockdown in the London Bridge area as armed police hunted the attackers.
Its report says the attack "bore all the hallmarks of a repeat of March's Westminster terror attack when Khalid Masood drove a car into pedestrians on the south side of Westminster Bridge".
"Terror at London Bridge", reports the Sunday Express which says a van ploughed into pedestrians before three attackers "leapt out and started stabbing passers-by".
Its website has a separate story on the "elite SAS 'blue thunder' unit" it reports was "flown into London Bridge to hunt down the terrorists". All three suspects were shot dead by police.
The Sun on Sunday calls the attack a "50mph van and knife horror". A witness tells the paper how attackers tried to force their way into a pub after bar staff had locked the doors. Its website features a video widely published of the moment armed police burst into a pub and ordered customers down to the floor.
Attackers with blades up to 12 inches long were stabbing people at random in the busy Borough Market area, according to the Star on Sunday.
The Mail on Sunday features images alleging to show the attackers. The Mail's website says one of the attackers was wearing an Arsenal football shirt and describes the "terrifying moment" the gang stabbed people in bars before being shot dead.