Newspaper headlines: 'Abortion concession heads off Tory revolt'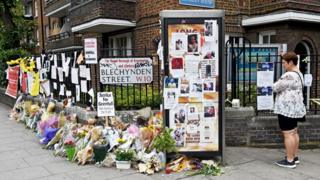 The continuing controversy around the Grenfell Tower disaster occupies many of the front pages.
"Keep cladding costs down, tower experts told," is the headline in the Times.
The paper reports that email correspondence and meeting minutes seen by its journalists point to a focus on cost-cutting, as plans were made to refurbish Grenfell Tower.
It claims the cladding was downgraded, to save £293,000.
The i reports "chaos" after the leader of Kensington and Chelsea Council called off a meeting with residents on Thursday night, declaring that the presence of the media there could prejudice the ongoing inquiry.
The Daily Mail declares a "fire probe farce" as it reflects on the latest developments, which include the newly appointed head of the inquiry admitting it would be unlikely to go far enough for victims families and survivors.
Get news from the BBC in your inbox, each weekday morning
Several papers report an official warning issued to more than 50,000 people with "metal-on-metal" hip replacements that they could be at risk of toxic poisoning and bone damage.
The Daily Telegraph says advice for such patients to have immediate checks is unprecedented, and could result in thousands of patients having to have surgery to replace the implants.
The Guardian and a number of other papers carry a warning to parents that they could be fined for leaving their car engines running outside schools as part of plans to tackle air pollution.
The paper says new official guidance sets out a range of measures including the possible use of "no idling" zones outside schools, care homes and hospitals.
The Daily Mirror devotes its front page to a campaigning call for a change in the law on organ donation under the heading "Our plea to Theresa May" .
Alongside a picture of Max Johnson - a nine year old from Cheshire who urgently needs a heart transplant - the paper says England should follow Scotland and Wales in introducing an "opt-out" organ donation system to make give thousands like Max a far greater chance of life.
Many papers carry a warning about the amount of time teenagers are spending online, based on research.
The Education Policy Institute found that more than a third of teenagers spent more than six hours a day on the internet - but in some instances use of social media could build skills and resilience.
The Sun provides a handy table of where British teenagers rank in terms of weekend internet usage.
They are beaten only by those of Sweden, and Chile, which tops the table.
The Times is among a number of papers to note a parliamentary concession of a different kind during Thursday's business in the House of Commons.
Under the headline "the ties have had it", it says Speaker John Bercow made clear, in a point of order, that male MPs would no longer need to wear ties, although their attire should be "business-like".
Several papers report the outraged tweet of Tory MP Geoffrey Cox: "Shocking. Tie-less. Where will it all end?"
A view echoed by Quentin Letts in his sketch in the Daily Mail.
"What next?" he asks, "Keith Vaz dressed as a washing machine engineer?"