Newspaper headlines: 'Failing' care homes and Volvo goes electric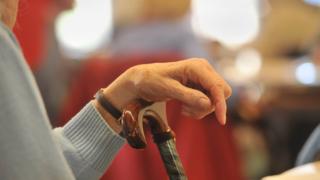 A warning about care home safety makes several of the day's front pages.
The Daily Telegraph says choosing one is like "Russian roulette" and quotes officials who advise that people should check how homes smell before making a commitment.
The paper thinks it's particular depressing that care home standards are getting worse. It argues that amid the political debate about ending austerity, elderly provision has to be regarded as a priority.
The Guardian says those in the east of England have the best overall results, while those in the north-west are the worst - with smaller homes also likely to achieve a higher rating.
In its lead, the Daily Mirror warns of a dementia time bomb - with the number of people with the disease expected to reach 1.2 million by 2040 - a 60% rise.
The research by University College London and the University of Liverpool also predicts the bill for their care will rise to £36bn.
The Alzheimer's Society says the study is a "wake up call... showing the social care system, already on its knees from decades of underfunding, needs urgent attention".
Many papers assess car manufacturer Volvo's announcement that from 2019 all new models will be hybrids or powered exclusively by electricity.
"Volvo death knell for petrol cars" is the Daily Mail's front page headline.
Get news from the BBC in your inbox, each weekday morning
The Times sees Volvo's move as the first big bet on the electrification of cars based on consumer demand, rather than a mixture of hope and subsidies.
The Guardian believes if the whole car industry were to follow suit then it would begin to make a serious difference, as transport accounts for 14% of greenhouse gas emissions.
But the Financial Times points out the environmental advantages of the electric car peter out if the batteries are charged from coal-fired power stations.
Many of the papers ponder how the world should respond to North Korea's missile test.
The Financial Times has been hearing from several experts who believe the US has only limited military options, without risking a retaliation which could destroy the South Korean capital, Seoul.
A major problem, according to the article, is that North Korean missiles are hidden in underground bunkers.
The i paper believes pressuring China to cut off trade isn't working because Beijing is determined to undermine efforts to isolate Kim Jong-un.
The Times thinks China has one last chance to show it's a globally responsible player and the paper calls for sanctions to be imposed on all Beijing institutions which profit from the Kim regime.