Newspaper headlines: 'Give us hope Johanna' and Brexit 'threat'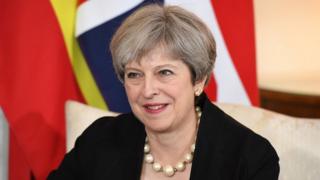 The Times leads on a claim that Google has paid millions of dollars in secret funds to UK and US academics in the hope that their research would sway public opinion and influence government policy.
According to a US watchdog group, payments from the tech giant ranged from $5,000 to $400,000 but were not declared by research teams in two-thirds of cases.
The paper says many of the studies made arguments in Google's favour, such as that collecting large amounts of data was a fair exchange for its free services.
Google tells the paper the Campaign for Accountability's report was "misleading".
You could soon be able to write your will in a text or record it on a voicemail, the Daily Telegraph says.
It reports on a new consultation from the Law Commission for England and Wales, which says it wants to bring legislation on wills into the digital age.
The existing law on wills being written, signed and witnessed dates back to 1839.
The commission admits that the proposals could add to family disputes if people who are seriously ill make last-minute changes to their will on a smartphone or tablet.
Theresa May interview
The Sun is the only paper to have an interview with Theresa May to mark her first year as prime minister.
She appeals to be allowed to stay on in Downing Street for at least the "next few years", so she can deliver Brexit.
But the paper says Mrs May refused to say if she will fight the next election as leader and thinks her remarks are "the strongest public signal yet" that she is preparing to stand down before 2022.
In its editorial, the paper states "it's not too late for her to rescue her time as prime minister" and her determination to do so is "commendably clear".
"The Great Ambulance Betrayal" is the headline in the Daily Mail.
The paper says health chiefs are being accused of putting lives at risk by sending cars to 999 calls instead of ambulances, to help them meet response targets.
The Mail says there is concern that seriously injured people are waiting longer for treatment because the cars can only take people to hospital if they can sit in the back seat.
An anonymous paramedic is quoted as saying that "care, patient safety and dignity are being badly compromised".
The paper says the NHS is now moving to close the loophole and will give call handlers more time to assess calls and dispatch ambulances.
Pension concerns
The Financial Times leads on concerns from financial watchdogs that pension reforms are putting savers in danger of paying too much in fees, or making risky investments.
The paper's editorial says many experts predicted this would happen when former Chancellor George Osborne brought in the changes in 2015 to give savers more choice about what they did with their money.
It concludes that it is too soon to call the reforms "a fiasco", but the early signs "do not look promising".
Grimacing Murray
Most of the papers have pictures of a grimacing Andy Murray on the front and back pages, as the defending champion was knocked out of Wimbledon while being hampered by a hip injury.
"Pain, Set and Match" is the Daily Star's summary, while the Metro and the Daily Mail both go for "Andy's Agony".
Murray's exit prompts the Sun to put another British player on its front page with the headline "Give us Hope Johanna", which it hopes tennis fans will sing when Johanna Konta plays Venus Williams in the semi-final later.
The Times is among the papers to report that the Australian High Commissioner has tried to reclaim the British number one as an Aussie - because she was born there.
But the Telegraph tells him in no uncertain terms "hands off Konta!"
And the Daily Express features a railways fan who has built a replica station, complete with a 60ft platform, in his back garden in East Sussex.
The paper says it was "just the ticket" to house Stuart Searle's collection of rail memorabilia including hundreds of station signs.
He has also built a 50ft-long underground station.
But according to the paper he will not stop there, and now has plans to build a cinema for his large collection of film posters.
Get news from the BBC in your inbox, each weekday morning
'