Newspaper headlines: 'Farewell Sir' as the Duke bows out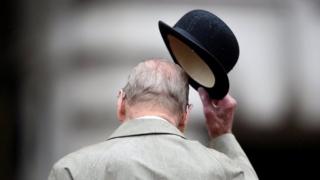 The Duke of Edinburgh raises his rainy bowler hat from a number of the front pages, as he bowed out of public life on Wednesday.
"Thank you sir," is the simple headline on the front of the Daily Express, which praises his "dignity and humour".
"Prince Philip is deserving of the nation's gratitude," according to the Daily Telegraph. He's given "exemplary service," says The Times. The Daily Mail calls him the "Iron Duke" and "a remarkable man".
News of the latest breakthrough in "gene editing" by scientists in the United States is seen by the Daily Mail as heralding "the dawn of the designer baby".
The Guardian calls it a "milestone" which has "impressed other scientists in the field". It points out however that implanting genetically modified embryos in women is illegal in Britain.
The Times calls the research "exciting" and says Britain shouldn't block gene technology that could save lives. However, the Sun reports the work could be moved to Britain.
Strict rules in the US forbid the scientists from going any further - but a licence could be granted in the UK by the Human Fertilisation and Embryology Authority.
Get news from the BBC in your inbox, each weekday morning
The Daily Telegraph leads on the continuing chaos at some European airports because of tightened security checks. It highlights a claim that ministers had ignored warnings from airlines about the looming crisis.
The i newspaper says families heading to Europe have been warned that passport queues of up to four hours on arrival are likely to continue for the rest of the summer.
"We staycationers have reason to be smug," says the paper's editor, Oliver Duff.
Meanwhile, the Daily Mail says British Airways was labelled a "budget airline" on Wednesday, after its IT system crashed for the seventh time in a year.
'Inhuman' prison warning
According to the i, the Netherlands is refusing to extradite eight suspected South American drug smugglers to Belgium - citing concerns from the Council of Europe's anti-torture committee that conditions in Belgian prisons are "inhuman and degrading".
Prisoner transfers are normally a formality, the paper says, but a Dutch court has ruled that these ones cannot go ahead "without further investigation into the detention conditions".
The Times reports a study which has found that street lights could damage crop production because they deter insects from pollinating plants.
Moths, beetles and other mostly nocturnal insects play a crucial role in plant fertilisation, the paper explains.
But a study by the University of Berne, published in Nature, found that insect visits to plants fell by 62% where there were street lights, compared to where there were none.