Newspaper headlines: 'Get to airport three hours early!'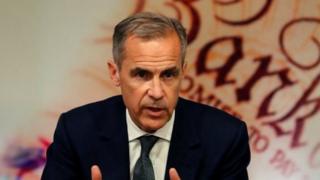 The Daily Mail leads with a warning that British holidaymakers trying to return from Europe this weekend should get to the airport at least three hours early because of delays at passport control.
The paper says airlines are concerned that thousands of UK travellers could miss flights on one of the busiest weekends of the year as airports struggle to cope with new EU border rules.
One minister has told the Daily Telegraph that Britain should introduce UK-only passport lanes at its airports as a "warning" to Europe over Brexit.
The minister, who hasn't been named, said border controls should be based on reciprocal relationships.
Get news from the BBC in your inbox, each weekday morning
The Financial Times leads with the warning from the Governor of the Bank of England, Mark Carney, that uncertainty over the outcome of Brexit is, in the paper's words, "choking" business investment.
The Daily Mail says the governor painted a mixed picture of Britain's economic outlook - warning households they should prepare for interest rates to rise.
The paper takes a somewhat sceptical approach to some of the Bank's previous forecasting - under the headline: "How Often He Gets It Wrong".
"Orange crush" is how the Guardian headlines England's departure from the women's European Championship at the hands of the Netherlands.
The Daily Telegraph says the Lionesses' dream came to an end when they were overwhelmed in the semi-final by the tournament's "ruthless hosts".
The Sun's preferred headline: "Oranjedoom".
Meanwhile in the men's game, the Daily Mirror - and other papers - print the professional contract of Sir Stanley Matthews.
It finds that Sir Stanley's wage in 1932 was £5 a week during the season - worth about £320 in today's money.
The paper compares that with Brazilian footballer Neymar's weekly pay packet, which is likely to be around three quarters of a million pounds.
The case of a Polish model who was given a conditional discharge for trying to steal nearly a thousand pounds worth of designer goods from Harrods appears in a number of papers.
Many of them highlight the comments of the magistrate who praised 28-year-old Natalia Sikorska for her "intelligence" and "considerable talents".
The Sun says the magistrate Grant McCrostie admitted being "more lenient than we should have". The Mail says the case has already triggered a row over so-called soft justice.
The papers give their own assessment of the life and career of the actor Robert Hardy, who has died.
The Daily Telegraph says his acting was many-faceted, energetic, and - like the English climate - subject to small storms and changeable moods.
The Times describes him as an "ebullient and versatile" character actor. He had an aristocratic flourish, it says, a natural gravitas - and a knack for line delivery that sounded as though it had been lubricated by a glass or two of decent claret.