Newspaper headlines: Westminster sex claims and Bake Off 'gaffe'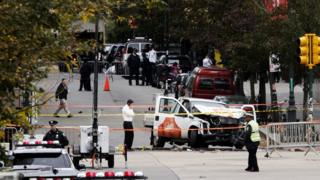 Tuesday night's events in New York feature widely in the newspapers.
Both the Daily Telegraph and the Daily Mail report that the fake guns wielded by the attacker led many at the scene to think they were watching a Halloween prank.
The Daily Express describes it as "Horror in Manhattan".
The New York Times reports that five of the eight people killed were Argentine tourists who had travelled to the city for a high school reunion; another victim was from Belgium.
The Times here notes that while New York has been the target of multiple bomb plots, until Tuesday night it had not suffered a fatal terrorist attack since jets struck the twin towers of the World Trade Center 16 years ago.
Westminster allegations
The claims by the Labour activist Bex Bailey that party officials "hushed up" her rape at a Labour event six years ago provide the lead for several papers.
The Guardian quotes the party's leader in 2011, Ed Miliband, as saying he was "shocked by the horrific allegations".
Labour MP Stella Creasy tells the Huffington Post UK website that allegations involving party members or staff should be investigated by an independent body. "You should not be getting a careers advice session if you come forward to report a sexual assault," she says.
Ms Creasy also calls for political parties to train their staff in safeguarding.
The i speaks of ministers' "panic" after an unredacted list of unverified claims against Conservative MPs - including consensual relationships alongside claims of sexual harassment - was leaked online.
According to the paper, the list includes seven Cabinet ministers, eight former ministers and 25 other MPs.
However, the Times reports that some Conservatives MPs say they have been wrongly named on the spreadsheet - and are considering legal action against its authors, if they can identify them.
Get news from the BBC in your inbox, each weekday morning
The Telegraph reports that a former adviser to Donald Trump, who has admitted giving misleading statements about his Russian contacts, may have recently worn a wire to discuss Russia with campaign colleagues, as part of a deal to reduce his sentence.
With the special counsel, Robert Mueller, investigating claims of collusion between the Trump election team and Moscow - strongly denied by the president - court documents are said to describe George Papadopoulos as a "pro-active co-operator".
The paper suggests that he may have been "flipped" - a well-known technique in which a junior figure in a scandal is charged and then agrees to pass on information about more senior figures, to reduce his or her punishment.
The Daily Mirror says a judge has sparked fury by insisting that the killer of the soldier, Lee Rigby, should be given legal aid to sue the Ministry of Justice after losing two front teeth while being restrained in Belmarsh prison four years ago.
The paper notes that Mr Justice Brian Langstaff also warned that Michael Adebolajo had developed a network of terrorist sympathisers by preaching Islamic extremism behind bars.
Finally, the story of a boss who snapped.
The Mail tells how the managing director of the Nippy Bus company in Yeovil shut it down, sacking his entire staff of 27 drivers.
A frank email from 57-year-old Sydney Hardy told them: "I've had enough. I cannot work with you a moment longer. I am quitting to pursue my dream of not having to work here."