Newspaper headline: MP harassment claims and 'cost of Brexit'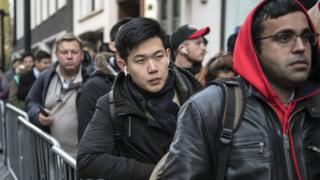 As the allegations of harassment in Westminster continue to widen, many papers focus on political intrigue behind the scenes.
The Daily Telegraph says Sir Michael Fallon had been scheming to get Commons leader Andrea Leadsom sacked before she made what it calls "a pre-emptive strike" to force him out by alleging he made lewd remarks in a meeting.
The paper says he had suggested she was a "dud" who would have to be sacked to get Cabinet agreement on any Brexit deal.
The Daily Mail asks "did Leadsom knife the minister to save her job?" saying that by acting as a whistleblower she made herself unsackable.
On its front page, the Times says that separate claims against Sir Michael Fallon were presented to Downing Street on Wednesday, and he was asked about them hours before he resigned.
Sir Michael says the latest allegation is untrue and libellous.
But the Sun says it helped seal his fate as defence secretary.
The Financial Times says that although the problem affects all parties, it spells potential disaster for Theresa May, in the same way an unpredictable sleaze scandal undermined former prime minister John Major.
The Independent, which first reported the allegations against Labour MP Clive Lewis, warns of the dramatic repercussions of the scandal if it leads to resignations and by-elections.
It says: "It is unknowable what may happen as we stagger towards Christmas, a good time for a bored nation to enjoy a political scandal."
The Guardian leads on new research which says households will face a £930 a year increase in their shopping bills if Britain leaves the EU without striking a new trade deal.
It says the cost of meat, vegetables and clothing will go up most, with poorer families disproportionately affected.
The Daily Mirror leads with what it calls shocking accusations of sexual harassment and bullying in the world of horseracing.
Gay Kelleway, a trainer and former jockey, says she suffered bullying and abuse and was once pinned against the wall by a fellow rider in the presence of officials who did nothing.
The paper says the intimidation she describes will be "only too familiar to those coming forward in the wake of the Harvey Weinstein scandal" and that "enough is enough".
The British Horseracing Authority has said it is taking the allegations extremely seriously.
Many papers show the queues of shoppers waiting for the new iPhone X, with headlines such as "X marks the spot" for the i, and "The X-factor" in the Guardian.
The Financial Times says demand has been far higher than for recent launches of Apple's new phones.
The Times's business section remarks acidly that proof of man's evolutionary heights are that its first $900bn company is the one which allows you to create an animated emoji of yourself.