Newspaper headlines: Tories 'go green' and a 'white' Christmas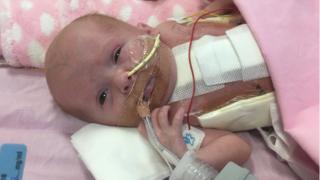 "Brave Heart" is the front page headline of The Sun, which pictures Vanellope Wilkins, the baby thought to be the first in Britain to be saved by doctors even though her heart was born outside her body.
The Daily Mirror says her parents found out about the abnormality during a routine scan - to which they had taken their other children.
Vanellope's mum, Naomi Findlay, was advised to terminate the pregnancy but she says that when she saw her daughter moving on the screen, she decided she could not give up on her.
Get news from the BBC in your inbox, each weekday morning
On its front page, the The Daily Mail calls for action to "bring the web giants to heel" - accusing them of failing to tackle online abuse directed at MPs during June's general election.
It says the report by the Committee on Standards in Public Life found 68% of Conservative candidates were victims of online abuse, compared with 36% for Labour.
Maria Caulfield, the Tory MP for Lewes, tells the Mail that she was driven off Twitter and Facebook by the abuse, her car tyres were slashed outside her home and she reported three death threats.
Twitter says it proactively finds abusive content and Facebook that it offered advice to parliamentary candidates.
According to several papers, the Scottish Conservative leader Ruth Davidson has given her clearest signal yet that she is eyeing Theresa May's job.
She tells the Spectator that she does not rule out a move to Westminster if the Tories fail to win the 2021 Scottish Parliamentary election.
The Daily Telegraph points out that Ms Davidson had previously insisted she had no plans to be an MP.
The Scotsman, which notes her success in transforming her party's fortunes in Scotland, says she would only consider running for a Scottish seat.
Trump's visit and nuclear tension
The papers once again consider the furore surrounding Donald Trump's state visit to the UK - with a poll of 1,500 people for The Independent now suggesting that 48% of people want the invitation to be withdrawn.
One-third want the visit to go ahead, while 21% say they do not know.
But Con Coughlin in The Telegraph argues those demanding Mr Trump should be turned away would do well to remember that co-operation on defence and intelligence between London and Washington is vital to preventing further terror attacks.
The growing nuclear tension on the Korean peninsula has prompted China to build a network of refugee camps along its 900-mile border with North Korea, according to the Guardian.
Their construction, says the paper, reflects growing concern in Beijing about the potential for political instability - or even regime collapse - in North Korea.
The Korea Times reports that American experts have warned of consistently high levels of activity at the North's main nuclear site - suggesting Pyongyang may be preparing for another test.
Some of the papers warn that gas prices could soar because of the blast at a major European supply hub.
The cartoonist Matt pokes fun at this in The Telegraph. He has a group of businessman looking at a graph, which shows a sharp upturn in the cost of gas.
"It's beginning to feel a lot like Christmas", one of them remarks.