Newspaper headlines: Green's sacking 'personal blow' for PM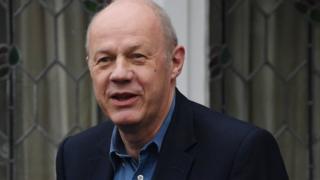 Damian Green's departure dominates the front pages as the first secretary of state is sacked for making "inaccurate statements" relating to pornographic material found on his parliamentary computer.
Many papers focus on where this leaves the prime minister with the Daily Mirror saying it's a reminder of the fragility of Theresa May's leadership.
Huffpost UK, however, claims it's a measure of Mrs May's current strength in the job that she can afford to sack the man who was her deputy in all but name. It says she will have wanted to make plain that no-one - not even a close ally and friend - gets any special favours.
The Daily Telegraph thinks the PM's position isn't so much strong as miraculously stubborn, and it concludes that it's hard to imagine the Tory Party dropping its 'pilot' at this stage in the Brexit talks.
Get news from the BBC in your inbox, each weekday morning
Whereas a warning that her enemies will pounce on the sacking is carried by the Conservative Home website. It says questions will be asked over his reappointment to the cabinet after former prime minister David Cameron let him go.
And the Financial Times says Mr Green's dismissal removes one of the most avowedly pro-European members of Mrs May's top team.
The behaviour and role of the police is examined by some of the papers with the Times suggesting there'll be deep disquiet among senior Tories over former officers allegedly breaking ethical guidelines to accuse Mr Green.
'Catastrophic shambles'
The actions of the Metropolitan Police continue to be under scrutiny as up to 30 sex crime cases are under review amid claims crucial evidence had not been disclosed.
The Sun speaks of a "catastrophic shambles or worse". It says officers are either failing to review key evidence or, more seriously, they are sitting on it knowing that it destroys their prosecution.
The Mail takes it further and says every police force in Britain is now under pressure to re-examine thousands of rape, sexual assault and child abuse cases.
Across the pond, US President Donald Trump's tax cut victory has been hailed by the Times as a "momentous achievement".
The US edition of Politico says Mr Trump's stormy first year is ending on a high note and describes what it calls a "thank-fest" at the White House after the bill was passed.
It says Republican leaders, who have had a strained relationship with the president, competed to heap praise on him.
Instead, the Guardian highlights Mr Trump's threat to withhold billions of dollars of US aid from countries that vote in favour of rejecting his decision to recognise Jerusalem as Israel's capital.
It says the president's "extraordinary intervention" appears to be aimed largely at members of the UN General Assembly in Africa, Asia and Latin America who are regarded as particularly vulnerable to US pressure.
Salad 'boosts memory'
Several papers - including the 'i' and the Sun - highlight research that eating a portion of salad every day can help improve the memory of older people.
According to the Telegraph, those who regularly ate just half a cup of green leafy vegetables daily had the memory of someone up to 11 years younger.
The Daily Express offers some food for thought to its readers with the headline, "Eat salads to beat dementia".
And finally, the Times reports that goodwill was in short supply after a nativity play in a primary school near Cardiff.
It describes how children were left in tears after the headmistress allegedly told the six to eight-year-olds that their performance had been "rubbish" and that they'd be getting bread and water at their Christmas party if they didn't improve.
Angry parents later gathered outside the school gates to confront the headteacher and the police were called. The school has denied that pupils were spoken to in an inappropriate way.
The Mail and the Mirror share the same headline - "affray in a manger".