Newspaper review: Blue passports and Bitcoin nosedive
By BBC News
Staff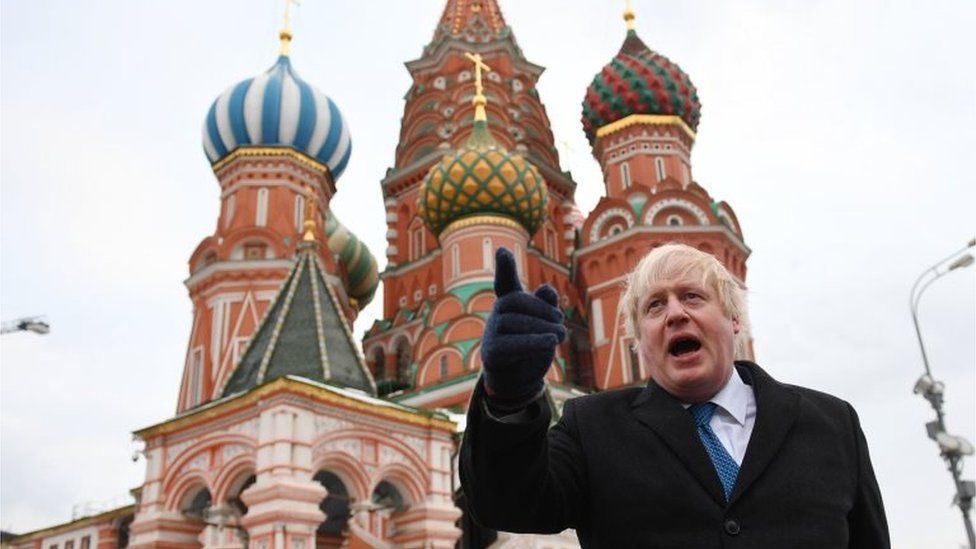 Several papers carry pictures of Boris Johnson in Moscow in front of the famous coloured domes of St Basil's Cathedral.
The Independent website calls the meeting "classic Boris: bumbling, chaotic, and spectacle-driven". But it concludes "the tone of the press conference was, by Moscow standards, tame".
The Times leads on what it says are government plans for Britain's first national pay-per-mile road charging system. It says the Department of Transport is considering mileage and emissions-based fees for lorries to try to reduce traffic.
The paper reports that industry figures are worried that the scheme would act as testing for a universal system for all vehicles, something the government has denied.
The chief executive of Tesco tells the Daily Telegraph that his company will be the first supermarket to be free of food waste - by as early as February.
Dave Lewis, who has run Britain's largest retailer since 2014, promises that leftover food will no longer be thrown away.
Instead it will go to charities, or be used in animal food or to make fuel, the paper reports. Mr Lewis admits that Tesco bins up to 70,000 tonnes of food each year and asks if Tesco can make this work, then why can't everybody?
The political blogging website Guido Fawkes has published a top 10 of MPs who it claims swear the most on social media.
The MP for Birmingham Yardley, Jess Phillips tops the list, according to data supplied by the research site PoliMonitor.
She's one of seven Labour politicians filling the top places, others include Dawn Butler and Stella Creasy. The SNP's Angus McNeil is at number two, while the only Conservative is Robert Syms, the member for Poole who's in 10th place.
The Guardian reports on a surprising turnaround in the fortunes of the turntable. The paper says that record players have become one of the must-have gifts of 2017, with bumper sales for retailers such as HMV and Richer Sounds.
The music industry's trade body, the BPI, says the number of vinyl records sold is expected to pass four million this year, with a quarter being bought by under-35s. The paper calls it a remarkable comeback for a format that looked doomed in 2007, when just 200,000 records were sold.