Newspaper headlines: 'Thatcher refused to panda' and bacon 'saved'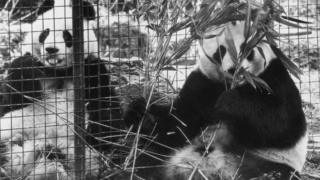 The Guardian reports on the newly-released files from the National Archives at Kew.
It says they show Margaret Thatcher "refused to pander" to a suggestion that she could share a transatlantic Concorde flight... with a panda.
The Smithsonian Institute in Washington wanted Chia Chia on a loan from London Zoo so it could mate with a female panda in the US.
The president of London Zoo, Lord Zuckerman, was said to be enthusiastic, saying it would be a signal of the UK-US Special Relationship.
Mrs Thatcher, however, the paper notes, was less keen - either because of her dislike of PR stunts, or because she didn't want to imitate her predecessor, Edward Heath, who had brought pandas back from China.
The Daily Telegraph says the archive papers also reveal that the government paid TV presenter Hughie Green more than £300 in an out-of-court settlement, after he was fired upon by Soviet fighters while flying his private twin-engined Cessna to Berlin in 1963.
The paper says that the star of Double Your Money and Opportunity Knocks blamed the government for not warning him that the Soviets might object to his flight plan.
It says Green - who was a wartime pilot with the Canadian Air Force - ignored the Soviet attempts to intimidate him and flew on.
According to the Daily Mirror, the National Archives' files show that Mrs Thatcher enraged the Queen by refusing to back tighter Commonwealth sanctions against South Africa over apartheid in 1987.
The paper says the move had been agreed by 47 leaders at a Commonwealth heads of government meeting in Vancouver, but Mrs Thatcher vetoed it, annoying the Queen so much that she considered scrapping her weekly audience with the prime minister.
Britain's inability to cope with a winter snowfall is reflected in several of the papers.
The Daily Mail asks why passengers were left stranded all night at Stansted after just one day of snow.
One passenger describes scenes there as "a shambles" while another tells the paper she felt deserted, like a "homeless person".
The Times says motorists are being urged to stay off the roads because of expected heavy snowfall.
The Sun says up to four inches of snow will blanket the east Midlands and north.
The Express says that Britain is on a winter storm health alert with gales, heavy rain and more snow on the way. It says the elderly and vulnerable are being warned to take particular care.
The Guardian says that with more arctic weather settling over the UK, travellers should be braced for delays and some rural communities could temporarily be cut off.
According to the front page of the Times, Britain's highest paid family doctor earns more than £700,000 a year, prompting concerns about what the paper calls GP "empires".
The paper says the unnamed GP was one of more than 20 to receive more than £200,000 a year - and was likely to be running a group of surgeries responsible for tens of thousands of patients.
It says patients' organisations have said GPs on such high wages should have to prove they are making a difference to frontline care.
Get news from the BBC in your inbox, each weekday morning
The Mail describes Britain as a nation "hooked on happy pills", saying prescription rates for anti-depressants have trebled in the last 15 years, putting the UK fourth in consumption among 29 western nations.
The paper says Britons take twice as many anti-depressants as people in France, Italy or the Netherlands, partly because patients are demanding a quick fix to feeling down - and partly because waiting lists for in-depth treatment are too long.
The Guardian reports that Facebook and Twitter could face sanctions if they continue to block a Parliamentary inquiry into alleged Russian interference in the EU referendum.
The papers says the chairman of the digital, culture, media and sport select committee, Damian Collins, has given them until 18 January to hand over information he requested about Russian misinformation campaigns on their platforms.
The paper notes that while the committee has no direct power to punish Facebook and Twitter, government ministers are thought to be sympathetic with Damian Collins, and could be willing to take action.
The Daily Telegraph reports that the Conservative constitutional minister, Chris Skidmore, has accused Jeremy Corbyn of trying to "rig" the next general election through gerrymandering - by blocking boundary reforms he says are biased in favour of Labour.
The paper says that constituency boundaries are more out of date than at any time since World War Two, but Labour is opposing changes that would rebalance constituencies.
Labour has said that it supports a boundary review which will benefit democracy - not just the Tories.
And finally, the Sun says "Britain's bacon has been saved" thanks to revolutionary rashers that are free from cancer-causing chemicals.
It says that from the new year, bacon will be available which is free of nitrites or curing agents.
The Telegraph says this follows a warning from the World Health Organization that bacon cured with nitrites is as dangerous as asbestos or smoking, because the chemicals produce carcinogens when eaten.