Newspaper headlines: Fresh Oxfam claims and Channel bridge 'boost'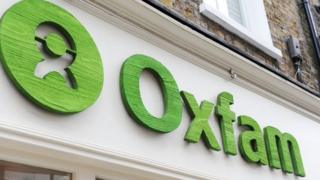 The Observer's front page carries fresh allegations against Oxfam - that its staff paid for sex while working in Chad.
Former employees say women were invited to parties at the charity's premises and that they were not there as friends, but "something else".
The Observer reports that a senior member of staff in Chad was fired for his behaviour in 2006.
Oxfam has said it is shocked and dismayed by the claims, although it cannot corroborate them at the moment.
The Mail on Sunday leads with a claim that Brendan Cox - the husband of murdered MP Jo Cox - was accused of groping by a senior US official in 2015, shortly after he left his job with Save the Children. Lawyers for Brendan Cox strongly deny the allegations, calling them "spurious".
The Sunday Times reports Theresa May is to promise close security links with the EU after Brexit - in an attempt to "grease the wheels" for a trade deal once the UK leaves.
The paper says she'll make the announcement in a major speech in Munich on Saturday - one of five that senior ministers will deliver as the government tries to bring into focus how Brexit will work in practice.
The Sunday Express says the so-called "road map to Brexit" is an attempt by the prime minister to "see off EU bullies".
But the Sunday Mirror cautions that Boris Johnson may upset attempts to present a common position when he makes his own speech this week.
Get news from the BBC in your inbox, each weekday morning
The Sunday People highlights what it calls a "shocking security breach" at Heathrow Airport, after a terror suspect was able to get a job there without a background check.
A spokesman for Heathrow says there were no security breaches and he would have been searched and accompanied when entering secure areas.
The Sun on Sunday quotes experts who say Russia was to blame for a cyber-attack on the opening ceremony of the Winter Olympics in South Korea.
A display of 300 drones was grounded and organisers had to shut down the Games' official website.
Russia has denied involvement - but security sources tell the Sun it's revenge for dozens of Russian athletes being banned for doping.
The Sunday Telegraph reports on an Australian invention - the Flow Hive - which, it says, has been credited with revolutionising beekeeping.
It's an artificial hive, that produces honey through a tap without the need for bee-handling.
Three years after its conception by a father-and-son team, the business has factories and warehouses across the world.
But the Telegraph's editorial calls for would-be apiarists to think hard about rushing out to buy one.
Wild bees are being squeezed out by those kept in gardens.
Spare a thought for the bumpkin bee - the paper pleads - he's got 2,000 larvae to feed.