Newspaper headlines: Oxfam shop abuse claims and 'aid for sex'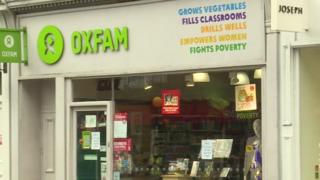 A high proportion of Tuesday's papers lead with ongoing revelations about Oxfam and a sex scandal over an aid worker hiring prostitutes in aftermath of an earthquake in Haiti in 2010, which is thought to have killed more than 200,000.
"Abuse rife in Oxfam shops" is the headline in the Daily Mail, which highlights claims that volunteers as young as fourteen have been harassed or worse, by adult workers. The paper says 123 allegations of sexual harassment have been investigated in Oxfam stores over nine years.
The Guardian quotes officials in Brussels as saying the charity could lose £29m in annual funding from the European Commission.
The Times says ministers should withdraw taxpayers funding from Oxfam until the extent of the misconduct is known, and accuses the International Development Secretary Penny Mordaunt of ducking tough decisions.
The Daily Express is already campaigning against Britain's target of spending nought point seven per cent of GDP on foreign aid, under the banner "stop the foreign aid madness". Its commentator Ross Clark says the "sordid" revelations demonstrate that spending money is not an achievement in itself.
Get news from the BBC in your inbox, each weekday morning
The Daily Mirror reports that Prince Harry's fiancee, Meghan Markel, has offered comfort to survivors of the Grenfell Tower fire during two unpublicised visits. She apparently went to a mosque a mile from the tower accompanied by a royal protection officer. The paper draws a comparison to Princess Diana and her charity work, saying it's a reminder of how the Royals can "reach out" to people.
Prisoners are being offered acupuncture and classes in mindfulness to help them get to sleep, according to the Daily Mail and The Times. The measures at Dovegate jail were introduced to try to stop inmates using smuggled drugs such as spice, which had become more popular since smoking was banned.
The Daily Mail says the news will "raise eyebrows at a time when there are fears that prisons are becoming too cushy".
It's Shrove Tuesday and the Daily Star's main front page story is a decision by what it calls "snowflake health and safety officials" to declare war on traditional pancake races.
Organisers have called off a race in Christchurch in Dorset, where rain and wind are forecast, in case competitors slip over and hurt themselves while running on "slippery grass".