Newspaper headlines: Corbyn's Cold War files and chaos in KFC
By BBC News
Staff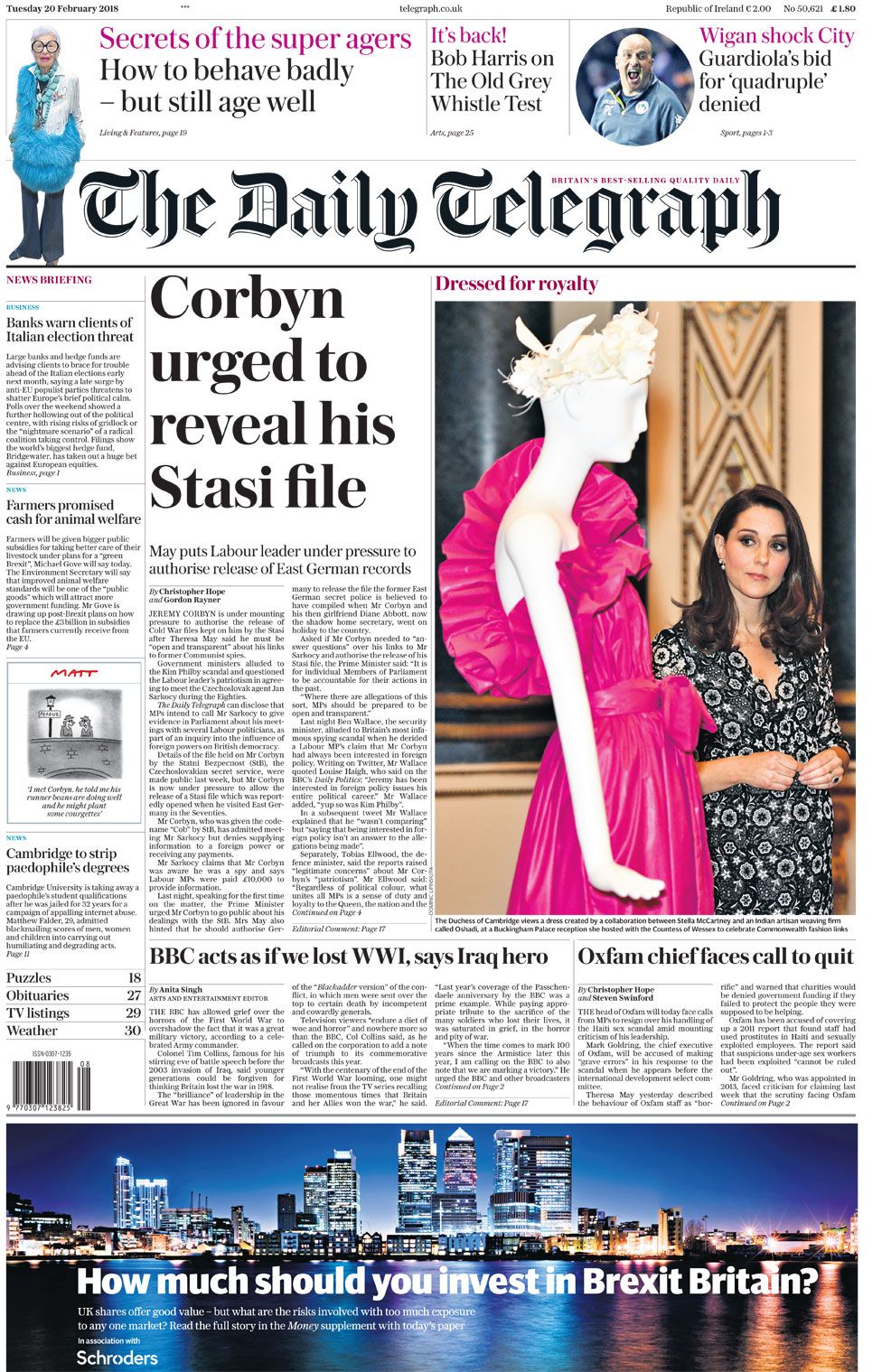 Alleged information about the Labour leader, Jeremy Corbyn, and questions over his involvement with the Cold War era feature in many of the papers.
The Telegraph and the Daily Mail lead on a call by the prime minister for Mr Corbyn to be "open and transparent" about his contacts with a Czech agent during the 1980s.
The Mail says it can reveal that the agent, Jan Sarkocy, repeatedly told his bosses that Mr Corbyn could be a useful source. The Telegraph says MPs intend to call Mr Sarkocy to give evidence in parliament about his meetings with several Labour politicians.
Labour has described any claim that Mr Sarkocy recruited Mr Corbyn to be a Cold War spy as a "ridiculous smear" and entirely false. Mr Corbyn insists he thought Mr Sarkocy was a diplomat.
It reports that lecturers, who are already due to walk out this week in the first of 14 days of strikes over changes to their pensions, are planning further stoppages stretching into the summer term. According to the paper, there will be no extra classes to make up for lost lectures in the current round of walkouts.
Enquiries by the paper have found that some students - particularly from Romania - are being told by "go-betweens" that they won't have to repay a penny.
It says one agent encouraging Romanians to apply for UK courses told a Sun investigator posing as a student: "This is the last year - your last chance".
The Student Loans Company tells the paper all debts are chased up both here and across Europe and that this will continue after Brexit. The Department for Education is quoted as saying that anyone refusing to repay their loans can be pursued by the courts in the UK or their home country.
She wants one of those handy reviews that allow ministers to say they're taking something seriously while not doing anything at all, it adds.
The Guardian agrees. It says Mrs May has essentially bought Jeremy Corbyn's argument that university tuition fees in England are too high, but not his conclusion that they should be scrapped.
In the Sun's view, Mrs May is merely tinkering in the vain hope of competing with what it calls Mr Corbyn's economically insane free-for-all offer.
According to the Telegraph, bill-payers are set to save hundreds of pounds a year under an automatic switching revolution being planned by price comparison websites.
Until now, it says, "auto-switching" services have only been offered by smaller broadband, energy and telephone companies, but larger providers are preparing to adopt the technology.
Under the system, customers will be automatically moved to cheaper tariffs by sophisticated computers, meaning they will no longer face the hassle of looking for deals.
Elsewhere, the temporary closure of hundreds of KFC restaurants across the UK and Ireland because of problems with a new supply contract for delivering their main ingredient, chicken, is widely reported - and makes the lead for the Sun. It has the headline: "Kentucky Fried Closed".
The Mirror reports the story under the headline: "Kentucky Fried Chaos". It says the fast food company ran "out of cluck".
Finally, several papers report that Blenheim Palace has apologised after a party to mark the Chinese New Year last weekend led to a barrage of complaints from guests who paid £26 to attend.
The Times says one visitor complained that they had had bigger events in their back garden. A spokesman for the Oxfordshire stately home tells the Telegraph the organisers had been let down by several vendors.